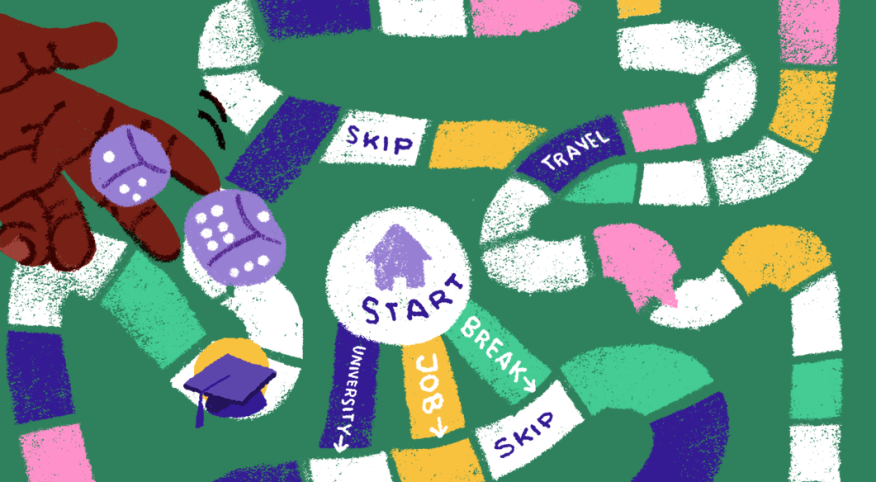 In the late '90s, I was a young college student who believed what my parents and other adults had drilled into me: The key to my future was going to college. The only key.

I had always believed that education was an essential part of life, and it was ingrained in me that it's the one thing that "they" can never take away from you. I watched A Different World when I was 8 years old and happily spent my formative years looking forward to waiting for my turn to leave the nest.

Little did I know I was more of a Denise than I thought. When the time came, I chose to leave California to go to an HBCU in Georgia. I had a grand time socially, while I struggled to find my purpose and my major, manage my school schedule and my social life and more. It ended up costing me financially and affected my job hunt. I also had my daughter while I was in school. As I managed it all, I went to work as an office assistant. I felt so much pressure to have life all figured out and not stray from that path, that it began to take an invisible toll. But even after all that I still had plans for my daughter to go straight to college out of high school.

Fast forward 18 years — I have two children now — and my feelings have changed. When my daughter was first born, college was such a far-off thought. Back then, I was learning how to be an adult. Barely figuring this parenting thing out, her future seemed a long way off and my focus was on keeping her alive through the toddler years.

Years later, when she started high school, her dad and I were pretty much divided in our ideas and goals for her future. I had always pushed her to follow her own path but also advocated for her to go away to school if she was going to go. Anywhere but here was my mentality when I was her age. But she never really seemed too excited about the future.

Somewhere between the umpteenth discussion about "What do you want to do with your life?" and "How are your grades?" I could see my daughter's very real panic about figuring out her entire life at that moment. And I realized college was not the move, particularly for her. At least not right then, with the stress of managing grades, choosing the right courses, college essays and exams. It's a lot for a 17-year-old.

I had learned from my own experience and by watching my peers. I ended up taking another five years to get my degree in a completely different field. Going to college straight out of high school was not for everyone, and some of us need a little more time to figure things out. My daughter is "some of us."

Personally, I don't think kids need to go to a traditional college or university straight out of high school. And I don't think they should be pressured to do so. I believe there should be more options available to high schoolers and more adults encouraging an alternate path.

After touring a few colleges and universities, including my own alma mater, my daughter made the decision to hold off on going the traditional route. I've sort of made it my mission to let her know there are other options available, like expanding her hobbies into a career, taking classes at a community college and just getting a job. And I let her know whatever she wants to do, she has my full support.

Not everyone understands this decision. Recently, I was speaking with my mother about my daughter's post-high-school plans, and she was lamenting about our lack of direction. She told me: "It seems like you don't want the same thing for her that you had." To which I replied, "No, I want better."

Now, in the current coronavirus pandemic climate, after schools have closed and switched to online lessons, leaving some high school seniors in limbo with graduation and their college plans, it's been a relief to not have the stress of figuring out college plans in our lives. Will universities even be open come fall? What if we had planned for her to go out of state? Not having to answer these questions has been one small blessing at this time.

The world is changing at an incredibly fast pace, so I've encouraged my daughter to keep her options open. We are entering a new chapter for sure, and while I am adamant about raising a future leader, I'm also resolute about doing it in a responsible way so my kids can keep their options open.

My job is to allow my daughter the freedom to make decisions about her future, while providing the support and tools she'll need to come up with a solution that works while maintaining her mental health. If she needs help, she knows her mama is here for her but that, ultimately, it's up to her to find a way or make one.