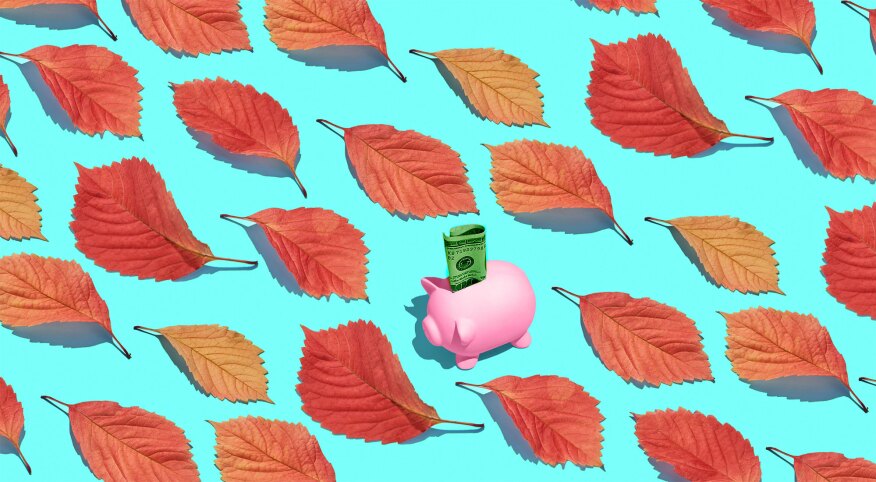 We all know what season is here. It's a season of warm togetherness and wonder. But it's also the season of spending overdrive and retail hype, and of trips, tips and wallet-siphoning activities that herald "The Holidays." We know that budgeting carefully helps us to fulfill goals, take care of ourselves and the people who matter to us, and to set aside enough funds for some fun. These tips can help:


Shopping
1. Join your local BuyNothing Group on Facebook or download the BuyNothing app. Give and receive free items — from food to furniture — through a local sharing community instead of buying new.

2. Download a coupon browser extension. Save money when shopping online with browser extensions like RetailMeNot, Honey or CapitalOne Shopping. Each will search the web for coupons, promo codes and cash back offers, and automatically plug them in at checkout.

3. Work on your holiday budget. Start planning for the holidays now. Decide how much you want to spend for the season and work backward, figuring out how much to allocate to gift-giving, holiday decorations, entertainment, food, travel and any other expenses you usually have.

4. Get a head start on your holiday shopping. Shop early to take advantage of savings events like Amazon's Prime Big Deal Days in October and other pre-holiday sales.

5. Let your online shopping cart sit overnight. Unless it's for a necessity and inventory is low, consider waiting at least 24 hours before hitting that buy button. This may be particularly useful for unplanned purchases. After a full day, you'll know whether you're buying on impulse or for a legitimate need. Not only that, but since so-called "shopping cart abandonment" is the bane of retailers, they will occasionally try to lure shoppers back with pop-up screens offering discounts, free next-day delivery or more favorable return policies.

6. Unsubscribe. If you're tempted by the gazillion marketing emails and texts you get, unsubscribe from the ones you most often give in to. If you miss them, you can always sign up again.

7. Leverage your stores' policies. Get to know the price-matching and price-adjustment policies of the stores you frequent the most. With price-matching, a store will honor a competitor's price; with price adjustments, if an item goes on sale after you purchase it, the store will refund you the difference within a specific time frame.


Bills & expenses
8. Audit your recurring bills. If it's been a while since you've looked at all your recurring expenses, set aside some time to review all your bills. For each expense, consider whether you can eliminate, reduce or negotiate it.

9. Prepay your car insurance premiums. You might be paying additional administrative fees if you pay your car or other insurance premiums monthly. Move to annual or semiannual billing to reduce the extra charges. Can't prepay the whole premium right now? Try bundling your insurance policies to lower your bills.

10. Switch to annual billing on your subscriptions. Whether your subscription is for the newspaper, TV streaming, fitness memberships, software, music or Amazon Prime, switching to yearly billing saves money and streamlines your monthly bills. Can't do them all at once? Switch one at a time and treat it like a monthly bill by putting it in your budget.


Money habits

11. Create a monthly budget. Planning your spending (and savings) helps you prioritize where your money goes. Think budgets aren't for you? There are various budgeting methods to meet different personalities and needs. If you like a detailed plan, try the zero-based budget; if you prefer a looser plan, try a thrive list.

12. Automate your savings. If you're not saving consistently, make it automatic by adjusting your direct deposit or scheduling recurring transfers from your checking to your savings account.

13. Increase your savings by 1 percent. Already saving? Why not increase your short-term savings or retirement contributions by 1 percent of your income?

14. Track your spending. Documenting your spending daily, weekly or monthly will make you more aware and help you spend more intentionally. You can track manually, with a spreadsheet or use an app. Your bank and credit card statements may categorize your spending for you.

15. Do a spending freeze. Challenge yourself to a "no-spend day," weekend, week or even month where you only spend money on the essentials.

16. Start a 31-day savings challenge. Make saving money a game with a 31-day challenge. Save $1 on Day One, $2 on Day Two and so forth; you'll have $496 after 31 days.

17. Use cash for a spending category you want to reduce. The kids today call it "cash stuffing," but the good ol' envelope system can do wonders if you're trying to reduce spending in a particular area. If eating out is your weak spot, budget a reasonable dollar amount and put it in an envelope. Use the cash throughout the month rather than swiping a card or tapping your phone. When the money's gone, you stop spending in that category. You'll be more mindful of your spending throughout the month.

18. Write down your values. Documenting what you value is a great exercise to remind you of what's important to you, and it can help you prioritize your money. For example, you may value your health, financial security, spending time with family and traveling. Writing that down and putting it in your wallet next to your credit card may help you focus your dollars on those things rather than on clothing or electronics.


Food

19. Try a coupon app for your groceries. You don't have to clip coupons from the Sunday paper to save money. Download your grocery store's app for digital coupons that you add to your account. CVS, Target and other retailers also offer coupons through their apps. Cash back apps like Ibotta and Checkout 51 add another layer of savings.

20. Meal plan. Setting aside time to plan your meals for the week will reduce food waste and reliance on takeout.

21. Order your groceries online. If you typically buy groceries in person, try placing your next order online to take advantage of promo codes you can't use in the store. Plus, shopping online makes you more likely to stick to your list.

22. Complete your grocery store profile. You probably already have your grocery store's loyalty card, but have you completed your entire profile? Add your mailing address to your account; many stores will send you personalized coupons and discount codes.

23. Tighten up your grocery shopping strategy. Food is typically one of your highest expenses after housing and transportation, so you can save a ton by spending wisely here. Learn the best prices of the items you purchase the most, and stock up when they hit their lowest prices. Add couponing to your strategy to maximize your savings. And, of course, always shop with a list.


Travel & entertainment

24. Leverage your library. Your library has way more than just books. Attend a workshop, stream movies, research your ancestry, check out a musical instrument or take advantage of the many other surprising services at your library.

25. Find free fall entertainment. Get creative with your entertainment this month by attending free outdoor festivals, concerts and art shows. Also, your local museum, zoo and other attractions may have a "free day" (or hours). Hint: Search online for "free events" along with your city or town.

26. Trim your TV bill. If you haven't cut the cord yet, consider ditching that pricey cable bill for a streaming service of your choice. If you've already cut the cord, audit your streaming services to see which ones you use and which you can cancel.

27. Plan your next vacation during a shoulder season. You can save on your next trip by booking it right before or after a peak travel season.


House & home
28. Declutter a room. Clearing out your garage, basement, closet or any cluttered space will help you see exactly what you have. You'll avoid buying duplicates and will notice when you begin to accumulate too much stuff.

29. Buy seasonal decor on clearance. Shop late October sales and pay reduced prices on Halloween decor and costumes. Hint: Costumes make great holiday gifts for kids and grandkids.

30. Swap your light bulbs. Switching to LED light bulbs throughout your home will save you over $200 on your annual lighting costs, year after year.

31. Get a home energy assessment. Many utility companies provide a low-cost or free audit of your home and energy usage and will give you tips to help you save money.