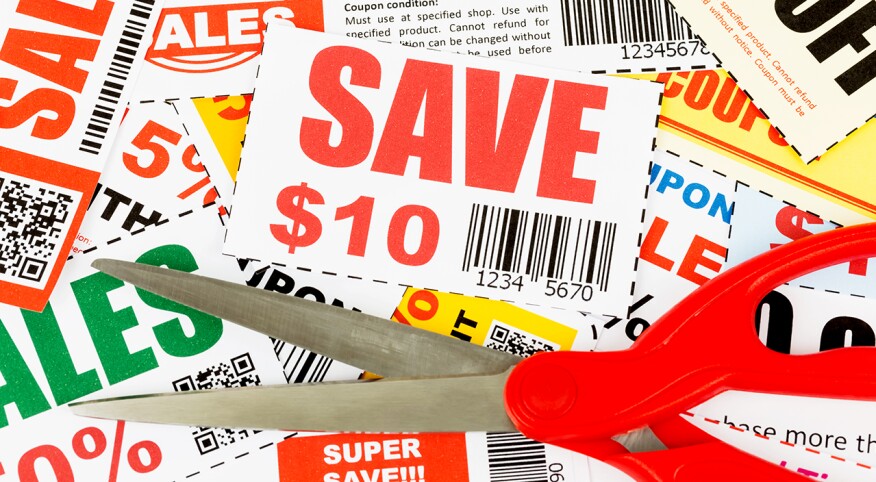 Clipping coupons? That's so 20th century! These days, shoppers needn't get the scissors out to score savings; you can find these money-savers in stores and in several places online, any day of the week. And with inflation and food prices soaring, it's more important than ever to find new ways to save. Here are several types of coupons out there (and learn more at aarp.org).

Catalina coupons These are long, narrow, colorful coupons you print in-store from a machine after you've made your purchase. They can be store-specific or issued by the manufacturer, but are valid only on a specific product or your next purchase. (Do you feel frustrated when you get a coupon for something you just purchased? If you need multiples of an item, consider purchasing one, then the rest in a separate transaction. You might just score a coupon for a discount on the additional items!)

Manufacturer coupons These are issued by the manufacturer and are valid on a particular product. They're widely available in newspapers, on the brand website, in-store and online on coupon-aggregating sites such as retailmenot.com and couponcabin.com.

Grocery store coupons These coupons offer a discount on your entire bill or specific items. Clip them from the newspaper or flyers, print them from the store website or download them from the store's app.

Online coupon aggregators These websites gather all manufacturer and store coupons in one place. Search by product or store, then download and print the coupon (download it to your mobile phone).

Grocery coupon apps Apps including SnipSnap and Checkout 51 (search Apple's App Store or Google Play for more) allow you to search for online coupons and download them directly into the app on your mobile phone.

Online coupon codes Use coupon codes to score discounts when you're shopping online. Find them by searching on Google, the brand or store website, or an online coupon aggregator.