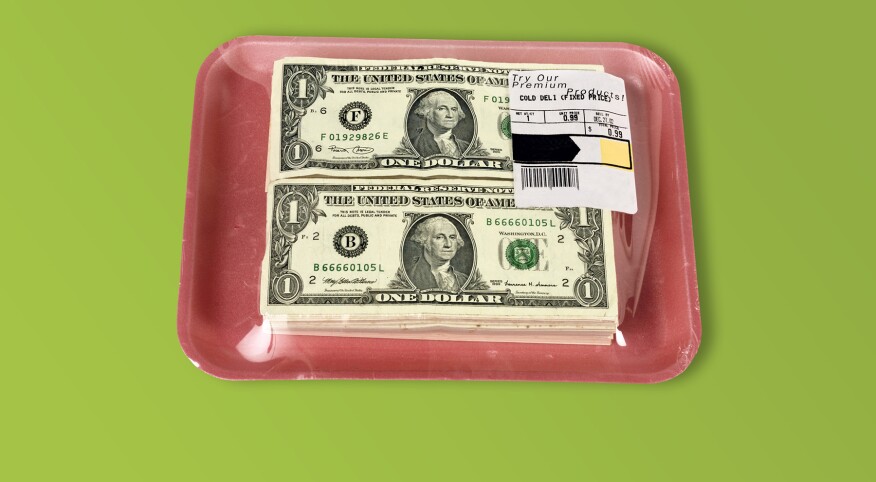 Meat prices are more than 13 percent higher than a year ago, with some items like beef steaks, veal, bacon and beef roasts as much as 16 to 20 percent higher. And these price jumps are on top of the increases we saw from 2020 to 2021. While price increases seem to be peaking, the domino effect of COVID-19 restrictions and safety measures, shipping delays, labor shortages and other factors mean consumers will continue to feel the pinch at the register for some time.

But the good news is there are tricks to beating this so-called meatflation. Here are some smart ways to save on meat, poultry and fish.

Get to know your prices

Outsmart cost increases by becoming familiar with the price points of the meats and fish you buy regularly. Grocery store prices run on cycles, with items selling at multiple costs within a six-to-12-week window. By watching and learning the different prices of your go-to meats, you'll discover their lowest prices. When they drop, buy (and freeze) enough to last you until they're at their rock-bottom prices again.


Look for discounted packages

Many supermarkets mark down packaged meat and fish as they near their sell-by date or right before the butcher restocks the shelves. Scooping up these packages is your chance to score meat at deeply discounted prices. To be clear, we're not talking spoiled food; we're talking about fresh items your grocery store can't sell after a specific date. Be sure to cook these meats right away or freeze them for later.

Some supermarkets mark down their meats on a schedule or have a​​ special section; get to know the rhythms of your store or ask the butcher when they discount packages. You can also keep your eye out for full-priced items approaching their sell-by date and ask the meat department if they can mark them down.


Buy canned

Canned fish (or tinned fish, as industry insiders call it) gets an undeserved bad rap. Shelf-stable seafood is an affordable and delicious alternative to the fresh stuff, not to mention that it's time-saving and convenient.

Think beyond tuna, though. Your grocery store shelves have so much more, like salmon, mackerel fillets, clams and mussels — perfect for incorporating into salmon burgers, fish tacos and other dishes. For some "fishspiration," check out recipes from food blogger Stephanie Harris-Uyidi at poshpescatarian.com.


Buy frozen

Many of us turned to frozen meats, chicken and fish when the fresh meat department shelves were bare at the beginning of the pandemic. The current price surges provide another excellent reason to shop the frozen aisles. While frozen fish and chicken have also increased in price since last year, they're still less expensive than fresh items.


Change where you shop

Think beyond your go-to store and explore other places near you for buying your meats. For example, Costco Business Centers stock different — and sometimes cheaper — products than the traditional warehouses. And they are open to all Costco members. Keep in mind that quantities may be even larger than standard Costco packages, so you may have to go halfsies with a neighbor or relative.

Also, stores like Aldi and Lidl are known for their low prices across the board. And local independent butchers and meat markets may have quality meats at lower price points than the grocery store.


Buy whole or large cuts

You know how buying whole fruits and vegetables is cheaper than buying precut and prepared produce? The same goes for meat. The more an item is handled, the more it will cost. So buy whole or bigger cuts when you can. For example, go for regular chicken breasts instead of thin-sliced. Or buy a whole chicken; some meat departments will cut it up for you. And instead of buying individual beef steaks or pork chops, purchase a large cut and slice it yourself. Videos on cutting meat abound on the internet. Or your butcher may be able to cut it up and repackage it for you at no extra charge. If you have a meat grinder, grinding your own meat will provide some savings, too.


Go for less expensive cuts

Skip the premium meats and look for more affordable cuts. Cooking cheaper cuts like lamb or pork shoulder chops and beef chuck slowly and at low temperatures by braising them or using a slow cooker will bring out their flavor and tenderness.


Buy in bulk

Purchasing large packages can provide some savings — but not always. Compare per-pound prices on family, bulk and regular packages to see where you get the most bang for your buck.


Get to know your butcher

Your supermarket's butcher is an untapped resource. Typically, they'll be happy to advise which cuts of meat are best for what you're cooking or suggest cheaper alternatives than what your recipe calls for. They may even offer special cuts or trim the fat off your meats at no additional charge. The same goes for your seafood department. Get to know the people working in these departments and the services they offer.