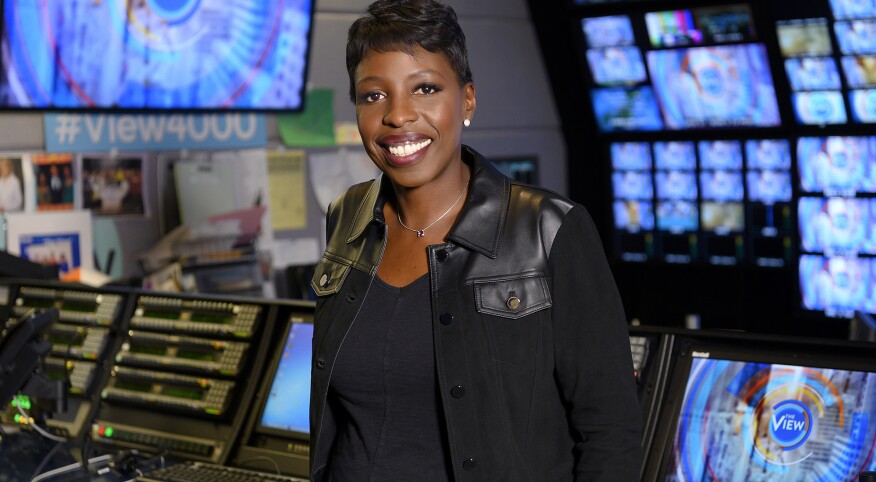 Work can have its struggles. For instance, just 56 percent of surveyed Black women think they have an "equal opportunity for growth and development" at work, according to the 2019 Women in the Workplace study, which looks at corporate America. But work also can be a place where we thrive.

Sisters From AARP recently talked with Candi Carter, a media veteran of more than 25 years who is now executive producer of The View. (Yep, the live, unscripted show currently hosted by Whoopi Goldberg and Sunny Hostin, among others.)

Carter, who was "chatty" and "very curious" as a child, knew she'd do something related to TV or PR. She started at CNN and went on to spend 15 years producing The Oprah Winfrey Show. She also ran her own production company before landing at The View. Over the years, her roles as a wife and mother of two also remained a focus and, in 2017, she founded We've Got Friends, a New Jersey-based organization providing hangouts for kids with special needs (her son also has special needs).

Tune in for her tips on networking (a must!), focus and more.*

Was mentorship part of your trajectory to success?
At every turn in my career, a Black woman made a difference. When I was looking for my first [media] job, I couldn't get hired at all. I was working in retail and telemarketing, and there was a kid at my telemarketing place who passed my résumé along to CNN. I interviewed with a Black woman, and I got hired as an intern. Then the associate producer that I worked for was an African American woman, who to this day is one of my best friends.

How do you maintain these ties?
The key is just making friends. So make friends, stay in touch. I'd just kind of loop them in on what I was doing. Look, if you are ambitious, and you're going for it, and you're smart, and you know what you want, I will happily help you get there. And I think that's what they did for me.

Do you view helping others as a way to give back?
Absolutely. I think it's my responsibility to help other people. Especially as a woman of color, it's very hard to get into this business. At some point, you have to help people get in the door.

How do you push through?
It's still making friends. I think people get complacent when they are deep into their careers, and I just don't. I'm always connecting and reaching out to people. You're always networking. I've been working for 30 years. I still get in front of two to four people a week.

What does it mean for you to be a Black woman in media?
In any organization, you need diversity throughout your organization. But I think it's important that if you are in the room that you lend your perspective and your voice to the coverage because it's just really important that we're accurate. It's really important that you can help other people who may not understand certain nuances that come with different stories.

I think we can't change certain things at work, but we can control how we react. What do you think?
You absolutely cannot control any biases from anybody. I always tell people, instead of getting upset about it, or feeling like a victim, or stewing in it, create opportunities for yourself. Focus on where you can be more valuable. Focus on where you can be more helpful, more creative. Focusing on that, and not focusing on the shortcomings of people who have unconscious biases, will help you kind of move through that. Because sometimes, the work speaks louder than all of it. And if you're doing great work, that's the statement you're leaving behind.

Changing topics. What should people know about The View?
The bottom line is we're a very, very serious show. We ask [about] issues that affect women, in particular. And we're talking to politicians, and people who may become the next president. I think we have an enormous impact on what's happening in the world.

Before we go, did you learn anything from working with Oprah that stands out?
My biggest lesson that I learned from Oprah is intention. She used to make us come up with an intention for every single show. And sometimes, the shows were, like, fashion shows. We'd be like, "Intention?" But that intent [related to our] overall theme: "Live your best life." And the intention for a show about "Do my jeans fit?" is, "Are you comfortable with who you are on the inside?" Because it really doesn't matter what you're wearing on the outside. If you understand your intention, then when other things come into play that aren't in alignment with your intention, you'll know immediately, and you're not going to be all over the place.

How do you take care of you? And how does your family fit in?
Something happens when you're in your late 40s, and you're 50, right? You just get to a point where you're like, "I have to take care of me." I don't eat fried food, I don't eat fast food and I work out four days a week. I get up, I take a 5:18 [a.m.] train from New Jersey to New York City, so I can work out with a trainer. And then I get up at 4:45 and go to the local gym two days a week. [Plus,] we always have a church family. We go every week. So you're just reminded of what's important. I wouldn't live without it. [Finally,] regardless of what I'm producing or what I'm doing, [being a special needs family] is a big part of my life. And it actually puts all of this in perspective.

*Interview has been edited for length and clarity.