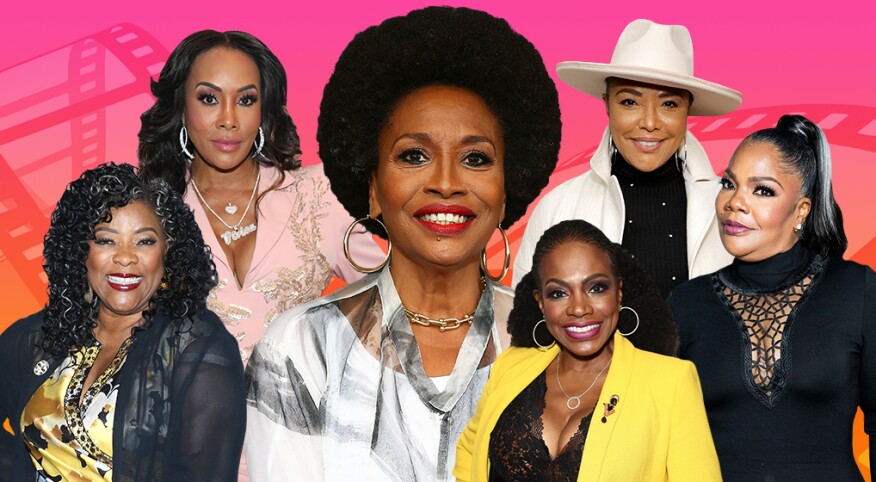 You've probably heard the expression "Blackfamous," which is used to describe Black actors who are stars in our galaxy but may not be as well known to white audiences. As a result, some have achieved less mainstream Hollywood recognition or box-office clout than their non-Black peers, or than Black stars like Halle Berry and Viola Davis.

For example, Vivica A. Fox gained more visibility and recognition from a wider audience in the early 2000s when she was cast as kick-ass kung fu assassin Vernita Green in Quentin Tarantino's Kill Bill films, and more recently by producing and costarring in campy Lifetime thrillers like The Wrong Real Estate Agent. But the foxy actress has been a "Blackfamous" OG since we watched her play sisters-with-attitude characters to perfection in Soul Food, Set It Off and Two Can Play That Game.

So we celebrate Fox and five other beloved Black Hollywood divas — Sheryl Lee Ralph, Loretta Devine, Mo'Nique, Jenifer Lewis and Lynn Whitfield — whose work has blessed us with decades of humor, heart, smarts, sex appeal, poignancy, pain, wonder and so many memorable, memorable moments. These talented actresses aren't just deserving of wider fame; they're also fam. We love you, ladies!

Sheryl Lee Ralph
In 1982, Sheryl Lee Ralph earned a Tony nomination for originating the Diana Ross–inspired character Deena Jones in the Broadway musical Dreamgirls, long before Beyoncé put her stamp on the role in the 2006 film version. Sheryl also played Denzel's wife in 1989's sexy thriller The Mighty Quinn and Brandy's stepmom on the late '90s sitcom Moesha. Currently, you can catch her as part of the ensemble cast of the hit ABC sitcom Abbott Elementary.

Loretta Devine
Loretta Devine has a bubbly and infectious energy that permeates every role. Who can forget her as the lovelorn single-mom character Gloria in Waiting to Exhale and the flirty way she sashays away from her new neighbor, played by the late, great Gregory Hines? The Houston native was also an original member of the Dreamgirls Broadway cast, and since then we've watched her play devoted wives and moms in Grey's Anatomy (she won an Emmy for her recurring role as Adele Webber), This Christmas, The Carmichael Show and Family Reunion.

Mo'Nique
Via her sassy stand-up comedy routines and her silly sitcom The Parkers, Mo'Nique has repped for confident curvy girls and made us laugh out loud. But the outspoken Baltimore native is also not afraid to stand up for herself. In 2019, she sued Netflix for race and gender discrimination. And in 2010, after she won an Academy Award for best supporting actress for her gripping performance in Precious, she accused the film's director, Lee Daniels, of blackballing her. We're happy to report that the feud with Daniels is finally over and he hired Mo'Nique to star in Demon House, a horror flick coming to Netflix.

Jenifer Lewis
In her aptly titled memoir, The Mother of Black Hollywood, Jenifer Lewis chronicles her career playing tough-love matriarchs, from Tina Turner's mother in What's Love Got to Do With It to Whitney Houston's mom in The Preacher's Wife and the feisty grandmother Ruby on black-ish. Off-screen, the Missouri native, 65, loves to show off her enviable high kicks to show other sisters that age ain't nuthin' but a number.

Lynn Whitfield
If you've watched Ms. Whitfield in Eve's Bayou, A Thin Line Between Love and Hate and, more recently, as Lady Mae Greenleaf on the OWN Black church saga Greenleaf, then you already know how commanding her presence is. This lovely Louisiana belle may fly under mainstream Hollywood's radar, but she's been acting royalty in our eyes since at least 1991, when she won a Primetime Emmy for her star turn in The Josephine Baker Story.