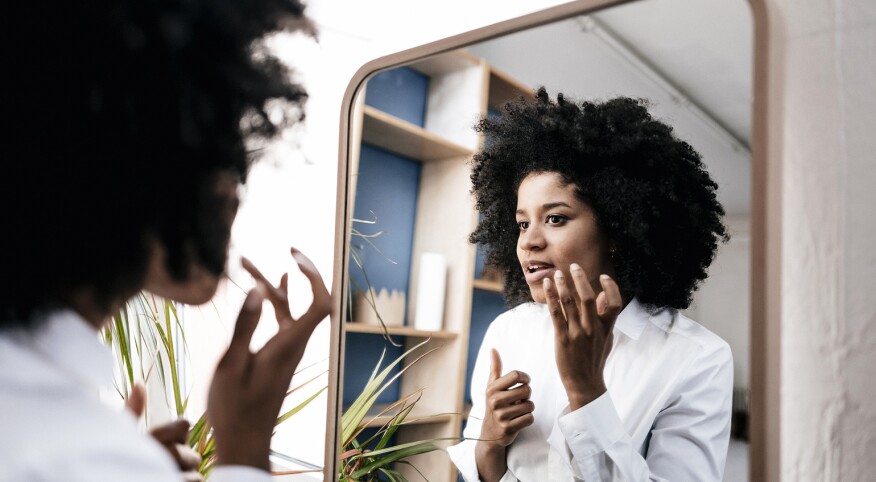 Black don't crack, but it's definitely more susceptible to hyperpigmentation. All skin has melanin-producing melanocytes, but those cells become more active in darker skin whenever there's inflammation or irritation, according to Shari Hicks-Graham, a board-certified dermatologist specializing in patients of color at Downtown Dermatology in Columbus, Ohio. The result is blotchy, uneven areas that can get worse with aging. But you can address these issues for a glowing complexion year-round. Here's how:

Melasma
Women of color are more likely to develop melasma, which is thought to be triggered or exacerbated by sun exposure and hormonal changes. The condition shows up as irregular-shaped brown or gray patches on your upper lip, nose, cheeks, forehead and other areas of your skin, although its texture is normally unaffected.

While the most common treatment is year-round sun protection, including sunscreen with at least an SPF of 30 and wide-brimmed hats, over-the-counter fade creams, laser therapy and chemical peels are safe treatment options. However, you should work closely with a board-certified dermatologist who has experience treating patients of color. Hydroquinone, kojic acid, licorice root extract, glycolic acid, vitamin C, soy and alpha arbutin, alone or in combination, are effective active ingredients for evening out skin tone.

"Melasma is best managed using a multi-factorial approach. There's a definite art to fading the discoloration without overtreating the skin or making it look washed out or unnatural," says Hicks-Graham. She adds that a customized approach includes combining various fade creams, peels, lasers and sunscreens. But you don't have to commit to all of these methods to achieve noticeable results. Two sunscreen options: Neutrogena Visibly Even Daily Moisturizer with Sunscreen SPF 30 and La Roche-Posay's Anthelios Ultra Light Fluid Facial Sunscreen SPF 60.

Dermatosis Papulosa Nigra
Often mistaken for freckles or moles, dermatosis papulosa nigra (DPN) is more common among people with darker skin. In fact, DPN affects 7 out of 10 Black patients and may have a genetic component. "It may develop as early as age 20 and multiply exponentially in your late 50s and 60s," says Hicks-Graham. The symptoms are pretty straightforward: small brown or black spots that are round and raised on your face, neck and torso. These spots can be surgically removed in a noninvasive outpatient procedure called electrodesiccation, which requires local anesthesia.

Age Spots
Prevention, meaning sunscreen, plays a crucial role when it comes to avoiding age spots (also called "liver spots") because they're often correlated with prolonged periods of sun exposure. You can usually self-diagnose age spots since the main symptom is tan to dark-brown spots that show up on your face, neck, shoulders, hands and other areas of your body regularly exposed to the sun. Under a dermatologist's care, topical fade creams can be effective if used consistently, but peels and lasers usually work faster. Because age spots can resemble melanoma, they should be checked out to make sure they're not skin cancer. Mention any skin changes to your doctor.

Post-Inflammatory Hyperpigmentation
Teens are more prone to breakouts, but don't be surprised if you started developing acne in your 40s or 50s. "Acne after menopause is common and occurs due to the hormonal changes in the balance of estrogen and testosterone," explains Hicks-Graham. "Testosterone levels become increased on a relative basis, and this activates changes in the skin that trigger acne." Post-inflammatory hyperpigmentation worsens if you squeeze or pop your pimples. A diet rich in fruits, vegetables and fish naturally reduces inflammation and increases your cell turnover rate, minimizing the appearance of dark spots. The marks gradually fade over time, but you can get clearer skin faster with a dark spot corrector. Two options: SkinMedica Lytera 2.0 Pigment Correcting Serum and SkinBetter Science Even Tone Correcting Serum.