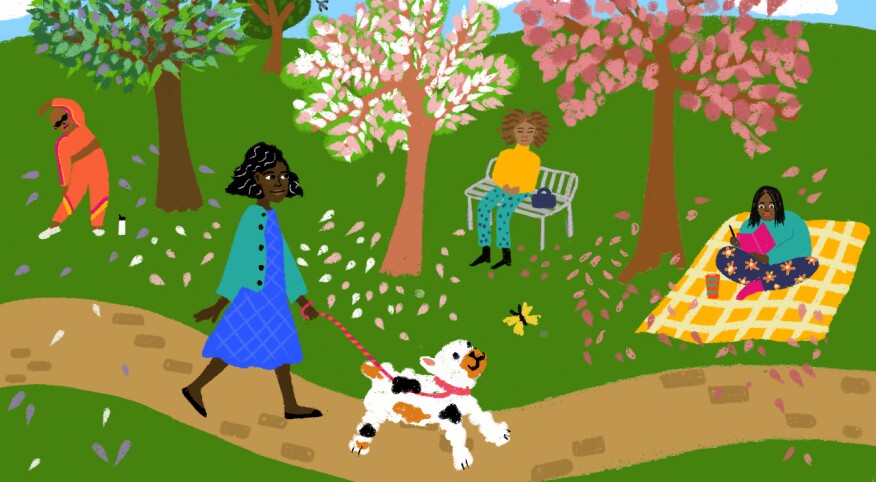 I had many excuses for why I didn't meditate: I didn't have time, I had too many things to do, I couldn't sit still, I didn't know how and on and on. But back in October, without the pressure of intentions, resolutions or SMART (Specific, Measurable, Achievable, Relevant and Time-Bound) goals for the new year, I devoted 15 minutes a day to meditative moments.

Before I got out of bed, I breathed in through my nose and out through my mouth to release my racing thoughts and leave them on the pillow. I basked in the quiet and the darkness around me. Then I stretched for the 10 minutes it took for the coffee maker to ding. That 10-minute stretch grew into a 30-minute workout with a water bottle and weights on most days.

But if I wasn't feeling all that, I sat in a comfy chair with steaming-hot, bold-brewed French vanilla java, eyes closed, actively listening to (not passively hearing) the ceiling fan's steady hum. In the time it took to empty my cup, I emptied my mind and started the day with a clean slate.

The secret? Don't overthink it. Be intentional about turning these everyday activities into meditative moments.
Soon, I was hooked. But I still had too little focus and too many things to do to try "real" meditation. Pamela Stokes Eggleston, founder and managing director of Yoga2Sleep, says I had it all wrong.

"First, trying meditation is practicing meditation — you are doing it," says Eggleston, a certified yoga therapist and meditation teacher. You're not "failing" at it because your mind wanders. "Second," Eggleston continues, "we create time for the things that matter, and it only takes one to two minutes to start a meditation practice."

All you need is an open mind and an activity that helps quiet it.

For example, "Look at chores differently. I've learned to be present while loading the dishwasher or washing by hand," Eggleston says. "When I'm in traffic or trying to get to sleep, I use progressive muscle relaxation … tensing on the inhaled breath and releasing on the exhaled breath." You can meditate "in the bath or shower, even on the toilet," Eggleston adds.

The secret? Don't overthink it. Be intentional about turning these everyday activities into meditative moments.


Walking: Take a meditative walk. Focus on the rhythm of your gait, and use these tips by Headspace to stay in the present moment.
Dancing: "Choose an active meditation; march in place or stretch. It doesn't always require silence or stillness," says JaVon Townsend, a clinical licensed certified social worker and founder of Jubilee Counseling and Wellness. Or work up a sweat dancing to your favorite playlist.
Praying: Conversation with your higher power invites hope, reflection and awareness. It can gradually change how you perceive your circumstances.
Bathing: "Use essential oils in the shower or bath. Focus on the scent and how the water feels on the skin, its temperature and how it comforts you," Eggleston says.
Writing: "Journaling gets thoughts from the day down onto paper, making it easier to let them go when they inevitably pop up during meditation," says Brianna Sanders, a licensed clinical professional counselor and CEO of Healed Like Kintsugi. Can't get your thoughts together? Write a bucket list, a list of things you're grateful for or a list of self-care activities.
Sitting: Try Eggleston's guided meditations on Insight Timer and Meditation Studio by Muse, or take in the serenity of nature around you from a park bench.
Having a bedtime routine: A bedtime routine can help us "shift our mindset and enter into a ritual of focused, nonjudgmental awareness as we prepare to rest," says Kellie N. Kirksey, Ph.D., founder of Creative Wellness Solutions.

And, sisters, we must learn to rest more and rest better.
"As Black women, it's in our DNA to stress, work hard and struggle. But being strong and resilient 24/7 is bad for our nervous system," Sanders says. "Meditation and mindfulness allow you to lean into softness and ease, and teach your nervous system how to thrive outside the grind culture."

So make today the last day you run on empty.

Countless studies show that meditation reduces stress, anxiety, depression, blood pressure, heart rate and pain. It also improves memory, focus and relationships.

The benefits of meditation, plus being able to do it anywhere, anytime and at no cost, equals a great return on your investment in you.

For more inspiration, check out the Black Girl Meditations playlist on Insight Timer and the Black Girl in Om podcast.