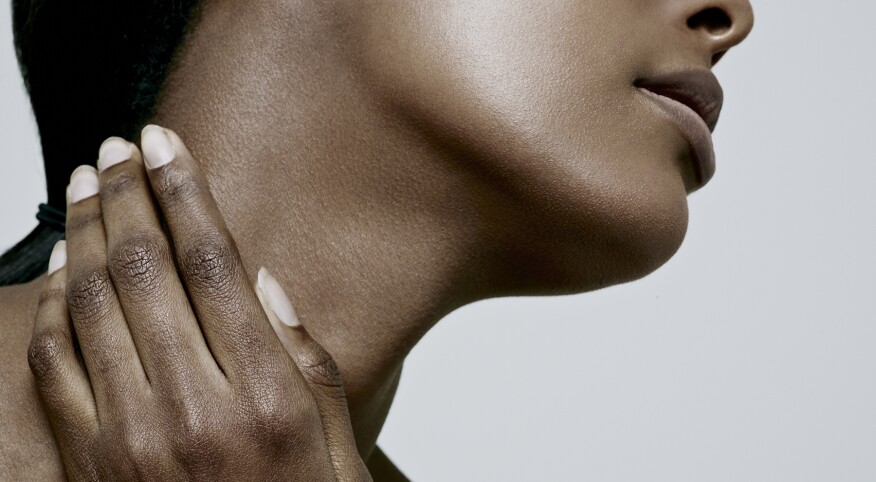 Is your closet full of neckwear and fashions with turtleneck collars? The neck is one of the first areas of the body to start showing age. "The skin on the neck is often neglected," affirms dermatologist Brooke Jackson, M.D., of Skin Wellness Dermatology Associates. "It is very thin, has almost no supportive fat, and therefore shows laxity (wrinkles) early on." In addition to thinner skin, the neck area has fewer oil glands than the face and the skin can take on a crepey appearance. We sisters pride ourselves on our ageless beauty. Here are seven ways to keep the neck smooth and firm.

1. Change how you apply sunscreen. Jackson advises that sunscreen be applied all the way down to the top of your bra line, which will prevent discoloration and premature aging of the skin.

2. Correct your posture. "We spend too much time looking down at our phones," says Jackson, "and deep creases related to this (called tech neck) are becoming a concern." The repetitive motion of looking down at your phone and laptop, leading to neck lines and sagging skin. Hold your phone at eye level. If the device can't be at eye level, try to keep your head at an upright angle and look downward with your eyes instead.

3. Make lifestyle changes. Eat a well-balanced, healthy diet. Stay hydrated. If you smoke, quit. Exercise and get quality sleep.

4. Keep the neck area moisturized. Some skin care experts believe a separate neck cream is unnecessary if you use a good face cream and use it on the neck and chest.

An efficacious face or neck cream will have a combination of ingredients that may include peptides to address skin laxity; hyaluronic acid for moisturization; ceramides to help repair the skin barrier; L-asorbic acid (vitamin C) to hydrate the skin, stimulate collagen production and skin elasticity, increase skin cell renewal and treat discoloration and sun damage; niacin (vitamin B3) to protect skin cells from sun damage; and n-acetyl-glucosamine to firm and smooth the skin while reducing hyperpigmentation.

Daytime products should also include a broad-screen sunscreen in the formula. Apply skin creams using upward strokes to lift and encourage tightening.

5. Pamper your neck with a massage tools. To help stimulate circulation, I like using some of the trendy tools that help massage oils and creams into the skin like jade and Gua Sha rollers, and the FDA recently cleared Pause Well-Aging's Fascia Stimulating Tool, which claims to stimulate collagen production. However, it's debatable how much these tools actually improve the skin and there isn't any scientific evidence to prove that they massage deep enough to effect to collagen or elastin production below the skin's surface. "They are massage tools which can help to stimulate blood flow," says Jackson, "but in order to affect firming, tightening and lifting, a procedure needs to be performed."

6. Ask about an in-office skin toning or firming procedure. If you haven't been following the steps above and are starting to see mild to moderate changes in the neck area, you may be curious about clinical treatments and procedures. Dermatologists have a variety of tools to address the appearance of the neck area. The risks, results and suitability vary with each patient. Be sure to talk with your doctor as part of your research before opting for cosmetic work. Here are some options you may wish to investigate:

• Chemical peels can improve crepey skin, age spots, fine lines, wrinkles and sun damage by using a chemical solution to remove the outer layer of old skin.

• Wrinkle-relaxer injections like BOTOX® or Dysport use small amounts of toxins injected into specific areas of the face and neck to weaken muscle movement. This prevents muscles from contracting, which can impede the formation of wrinkles and may reduce bulging that forms sagging skin.
Dermatologists have a variety of tools to address the appearance of the neck area.
• Cosmetic injections destroy and permanently eliminate fat cells from under the chin using deoxycholic acid (Kybella). Cryolipolysis (CoolSculpting) freezes and kills fat cells to reduce mild to moderate excess fat beneath the chin, thereby contouring the jawline.

• Radio-frequency (RF) energy deeply heats the skin at epidermal layers to trigger collagen production for a firmer, smoother appearance. Exilis, THERMI RF and Thermage are procedures employing this technique.

• Ultrasound technology targets deeper layers of the skin to cause new collagen stimulation and help promote long-term skin tightening. Ultherapy can tighten the deeper layers of the skin to lift the jawline and neck and can also lift and improve the skin of the décolletage.

• Microneedling creates tiny channels in the skin to encourage the release of natural growth and healing factors. The technique increases blood flow to the area and can promote collagen and elastin development. INFINI RF microneedling, a combination of microneedling and fractional radio frequency, delivers energy to targeted areas of the dermis through gold-plated microneedles to encourage collagen growth and tissue tightening.

7. Recognize that the most dramatic results may come with the additional risks associated with invasive treatments. A neck lift (rhytidectomy) removes excess sagging skin on the neck. Because the skin on the neck is so thin, it is also less forgiving, explains Jackson. There is a higher risk for scarring in this area and healing happens slowly. It is important that you are cautious and thoroughly investigate with your doctor any procedure you are considering. Have the procedure performed by a board-certified dermatologist or plastic surgeon if you decide to move forward.

Jackson also warns that rough and dark discoloration around the neck in the folds and creases is called acanthosis nigricans and may signal risk factors for diabetes. See a doctor or a dermatologist about any skin conditions that are of concern.