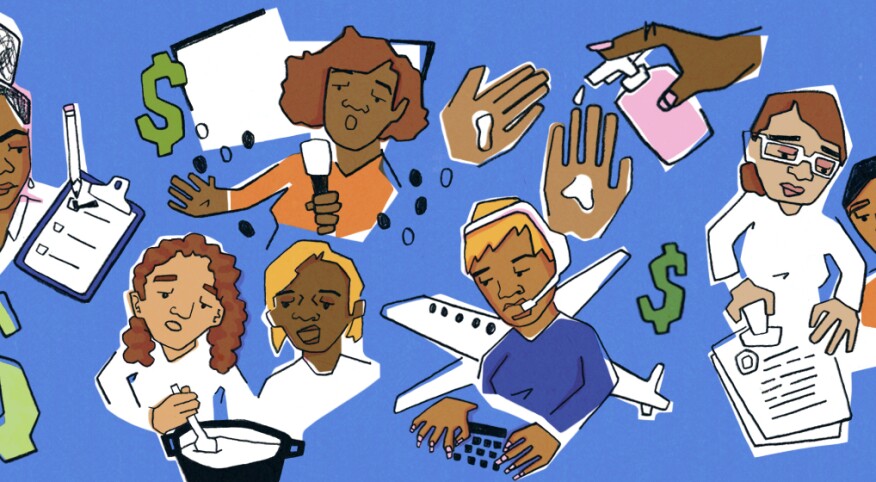 I've always been a little envious of people who can just launch into a conversation with anybody. Not only do they appear to take awkward social situations in stride, but extroverts tend to be good at schmoozing and persuasion, two skills that can translate into promotions and new job opportunities. Those skills can also come in handy if you're looking to cultivate a lucrative side hustle.

Extroverts may enjoy money-making opportunities that require them to network or connect with others, since they become energized by social interactions. If you consider yourself to be a people-person, one of these six side hustles may be the financial boost you've been looking for.

Event planner. If you like socializing, consider a side hustle as an event planner. Whether you specialize in large-scale events like conferences or intimate occasions such as weddings, you will have to meet with clients, coordinate with third-party service providers and possibly attend the social events you plan.

While you can set your own rates, event planners earn on average $18 per hour, according to PayScale. You may also be able to find potential clients at the affairs you organize.

Notary public. When people sign legal documents such as wills, mortgage documents and powers of attorney, they often need a notary public to verify their identity and make sure all signing parties understand what they are agreeing to.

As a notary, your job entails visiting with a wide variety of people, and you'll likely have to travel to their homes or meet them in a public place to have the documents notarized. Notaries are state government appointees so you'll need to apply through your state. Each state has its own requirements, but you may need to undergo a training or take an exam., depending upon where you live.

Doing so may be worth your time. Notary signing agents can make between $18 and $24 an hour, according to Salary.com.

Travel agent. Once the pandemic is finally under control, I'm betting there will be a travel boom as people go on those delayed vacations and start exploring the world again. If you like working one-on-one with folks, you can help them book those honeymoons, girl's trips and solo adventures.

Travel agents are typically paid by commission, meaning you get a percentage of each trip you book. If you're comfortable chatting with others, you may be able to find potential clients wherever you go. On average, travel agents earn about $18 per hour, according to ZipRecruiter.

Airbnb experience host. Chances are you're familiar with Airbnb as a lodging option, but the service also connects travelers to local residents who can host experiences such as tours, cooking classes and hikes. Most experiences last a few hours, and they are designed to show off what's special about your city or town.

As a host, you'll be interacting with all of the people who sign up for the event, so being at ease in front of groups of people is a plus. You set the price for your experience, and Airbnb takes 20 percent of the payout. A sample of experiences and prices charged on a given day include bracelet creation in Alexandria, Virginia, for $55 per person, a candle-making party in Dallas for $61 per person and a food walking tour in Chicago for $69 per person.

Public speaker. If you feel comfortable speaking in front of crowds, and you have expertise in a topic that people want to know about, you might develop a hustle as a public speaker. All kinds of organizations look for speakers for their events.

As a public speaker, you can set your own rates, though clients may be unwilling to pay top dollar unless you have multiple experiences under your belt. Speakers who list their services with All American Entertainment talent booking agency charge a minimum of $5,000. That's also the low end for speakers listed with the National Speakers Bureau. Thumbtack, a site that features professionals for hire, cites between $1,000 and about $3,000 as the average price charged by motivational speakers using the platform.

To start your public speaking hustle, reach out to local civic organizations or churches to see if they have any needs. Conferences for professionals in your field may also be looking for public speakers with your expertise.

Product party host. Most of us have been invited to a product party or two. Some of the more memorable product parties I've attended were for sex toys, wine and essential oils. During the pandemic, these parties even started going virtual, as entrepreneurial sisters used Zoom to get their wares in front of potential customers.

To throw a good party, it helps to be comfortable talking with people and putting them at ease. Having persuasive skills is a plus since one of your goals is to make sales. The amount you can make varies based on the company you're selling for, the amount of time you put into the hustle and your selling ability.

Say you sell cookware through Pampered Chef. The company pays salespeople or consultants 20 percent to 33 percent of sales. If you host an event and get 10 people each to buy $100 worth of products, you could potentially pocket $330 for that one party alone.

Sisters who sell doTERRA essential oils have the potential to earn anywhere between $752 to $11,260 per year, the company reports, depending on such factors as where they rank in the company and how much time they spend working. Keep in mind that you may also have to spend some money, initially, on products to sell or for company support.

The ideal side hustles bring in a fair amount of pocket change while letting you do something you enjoy. For extroverted sisters, that could mean more money and a hopping social life to boot.