It's brunch season! Are you craving crunchy, savory fried chicken atop a sweet and buttery waffle? Although the anytime treat of fried chicken and waffles was popularized by jazz musicians and singers in Harlem looking for an after-hours bite, you can satisfy your craving across the nation. Here's a list of restaurants around the country that take the art of creating this traditional soul food combo very seriously.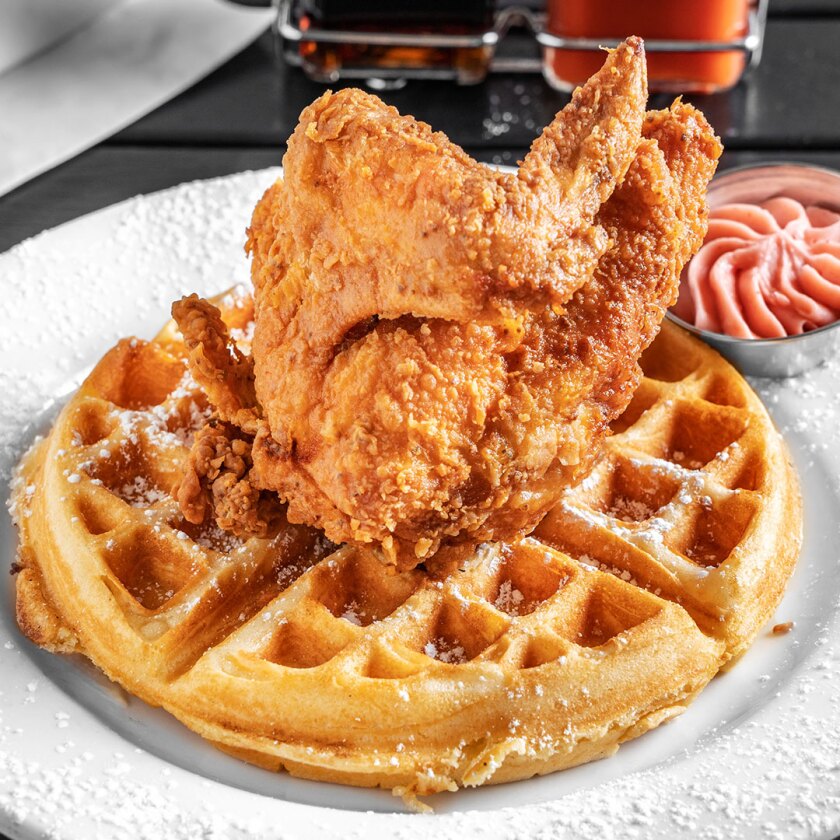 Melba's, Harlem, New York


MelbasRestaurant.com

Owner-Chef: Owner Melba Wilson is almost always on hand to greet her customers. Born and raised in Harlem, Wilson trained at the famous Sylvia's Restaurant in Harlem. She also currently appears on OWN TV's The Great Soul Food Cook-Off.

The Vibe: Always busy, fun and festive with indoor/outdoor dining and live music on Sundays in the summer and open mic on Tuesdays

The Recipe: Wilson's Southern Fried Chicken & Eggnog Waffles with strawberry butter and maple syrup was a winner on Throwdown With Bobby Flay. Catfish and Waffles is also available.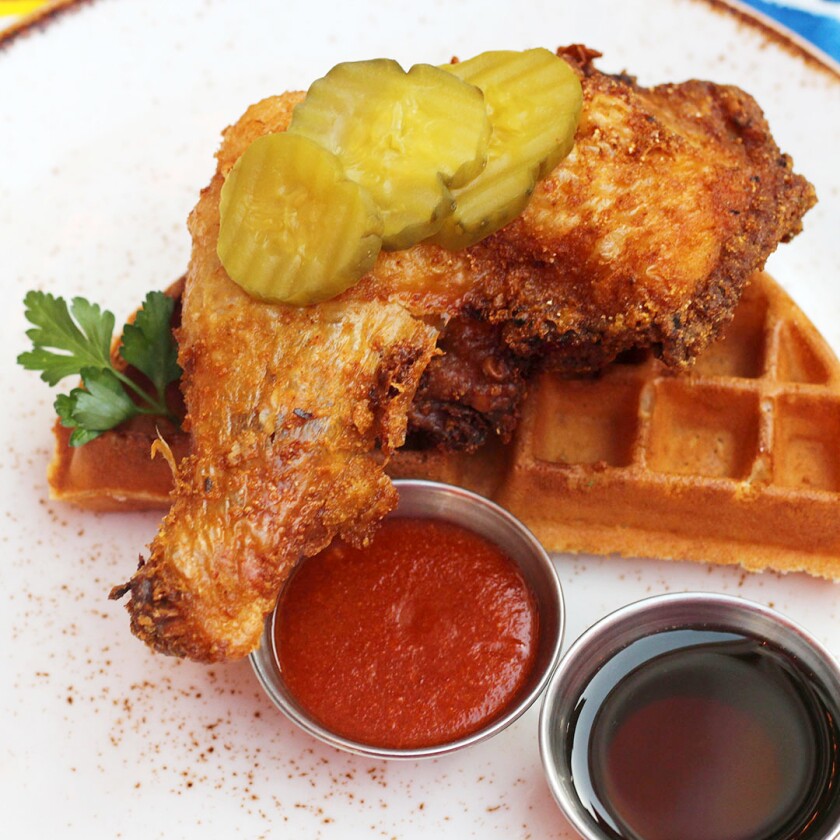 Red Rooster, Harlem New York
(also in Overtown, Miami)

RedRoosterHarlem.com

Owner: Marcus Samuelsson is an award-winning chef as well as a Top Chef and Chopped champion. He is host of PBS's No Passport Required and head judge on Top Chef Family Style; he will appear this year on Iron Chef.

The Vibe: Busy, trendy Harlem hangout with a diverse crowd. A fun bar scene with guest DJs and a private patio that's great for weekend brunch. Also check out Ginny's Supper Club downstairs for live music.

The Recipe: Samuelsson's YEP! Chicken & Waffles is his version of Nashville-style hot and spicy chicken served with a cinnamon- and nutmeg-spiced waffle, topped with spiked maple syrup.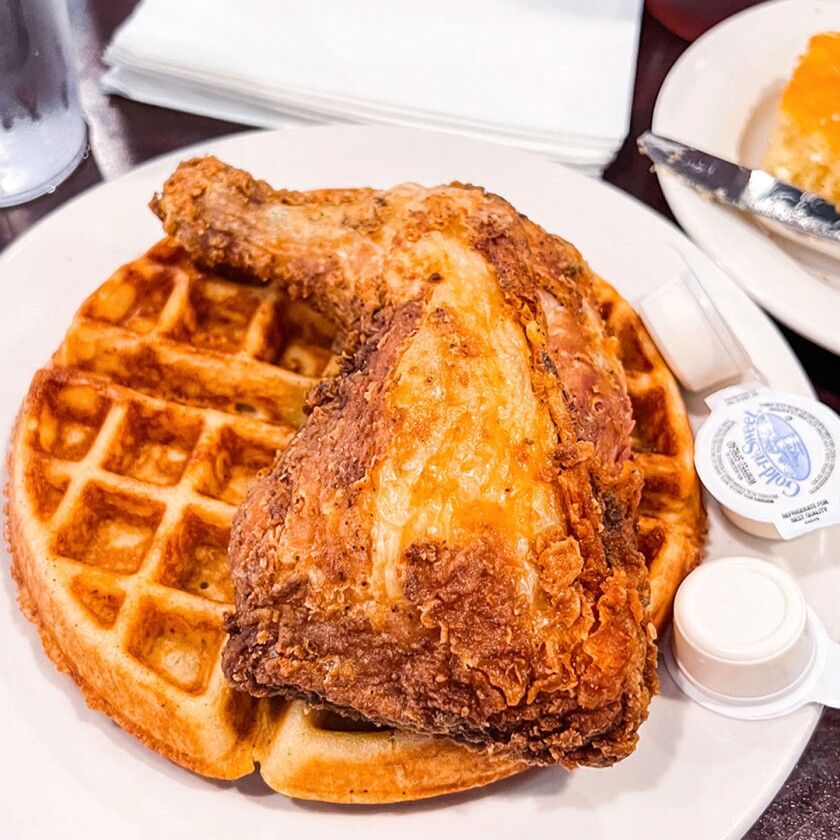 Amy Ruth's Harlem, New York


AmyRuths.com

Owner: Carl Redding named his spot in honor of his late grandmother Amy Ruth Moore Bass, with whom he spent summers in Alabama learning the art of soul food cooking.

The Vibe: A busy, casual and legendary Harlem soul food staple. Celebrities are known to drop in.

The Recipe: Their traditional Chicken and Waffle, called the Rev. Al Sharpton, is a large helping of deep-fried chicken served with a Belgian waffle and homemade gravy flavored with maple syrup.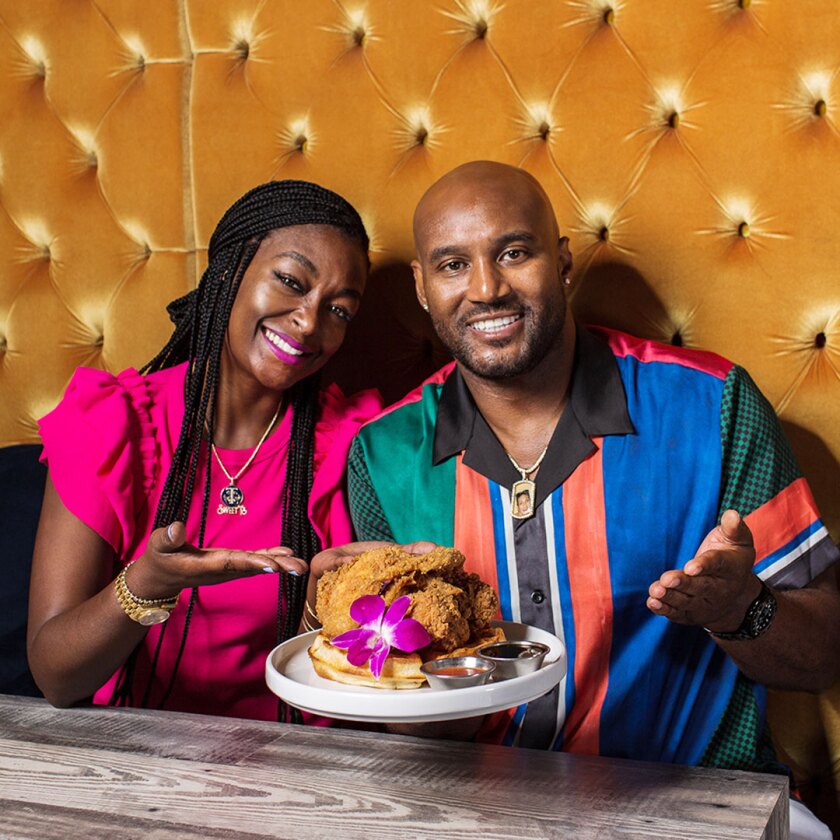 Sweet T's Southern Eatery, Montclair, New Jersey


SweetTsMontclair.com

Owners: Tonza Houston and partner Dre Perrin, along with consulting chef Carlos Swepson, of Harlem's Blvd Bistro.

The Vibe: Small and busy dine-in eatery with an upscale vibe, chandeliers and textured art-filled walls

The Recipe: Grandma Sarah "Bobbie's" Crispy Deep Fried Chicken Wings with a homemade Belgian waffle and maple syrup. Ask for some of their strawberry butter for your waffle.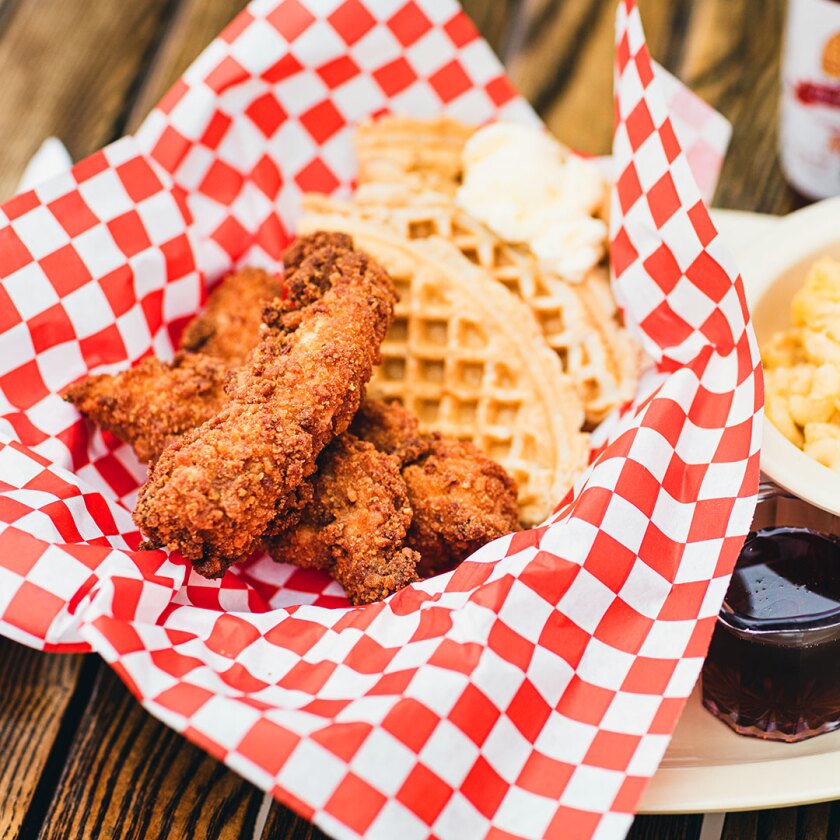 Roscoe's House of Chicken and Waffles, Hollywood, Los Angeles
(with a total of eight locations in Southern California)

RoscoesChickenandWaffles.com

Owner-Chef: Owner Herb Hudson, a Harlem native with lots of celebrity friends, brought his New York chicken and waffles recipe with him to Los Angeles and opened the family-run Roscoe's in 1975. The restaurant has since become an iconic Hollywood institution.

The Vibe: Perpetually busy with a casual diner atmosphere, Roscoe's is a favorite among celebrities, athletes, foodies and late-night diners. Even Barack Obama has visited.

The Recipe: A vast variety of chicken and waffle combinations. Their waffles are old-fashioned, thin and fluffy. Made from scratch, they are topped with Southern fried chicken fresh from the stove. Try it smothered in their famous chicken gravy.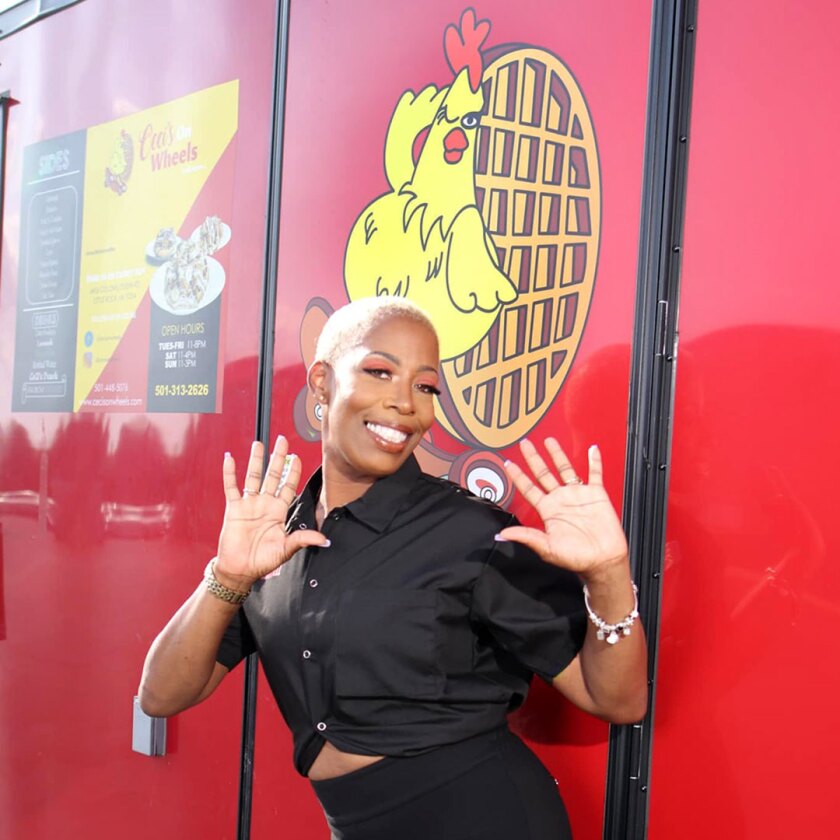 Ceci's Chicken N Waffles on Wheels,
various locations in Little Rock, Arkansas

facebook.com/cecisonwheels/

Owner-Chef: Chef Ciceley "Ceci" McDowell has taken her chicken and waffles show on the road. For weekly locations, check out her Facebook page, above.

The Vibe: Delicious waffles and deep-fried chicken and fish are cooked up daily in a bright red-and-yellow food truck.

The Recipe: Ceci's creative twists on traditional chicken and waffles includes Golden Oreos, red velvet, strawberries and pecans, and more.




Dame's Chicken & Waffles, Greensboro, North Carolina
(locations also in Durham, Cary and Chapel Hill)

DamesChickenWaffles.com

Owners: Dame Moore and Randy Wadsworth went to business school together at UNC Greensboro and plan to expand their company across North Carolina state lines.

The Vibe: Bright, casual and open with entertainment-themed-art-covered walls

The Recipe: Four kinds of waffles, including sweet potato and gingerbread. Add a schmear of flavored butter like strawberry cream or maple pecan, then pick from a choice of drizzled toppings that include candied pecans, caramel and salted cashew, and sweet whiskey cream.



Home of Chicken and Waffles, Jack London Square, Oakland, California


HomeofChickenandWaffles.com

Owner: Cofounder Derreck Johnson opened the eatery in historic Jack London Square in 2004 as a franchise of the famous Roscoe's House of Chicken and Waffles in Los Angeles.

The Vibe: This is a hot spot for chicken and waffle lovers, complete with a full bar featuring Black-owned spirit brands.

The Recipe: Offering 10 chicken and waffle combinations, including buckwheat or traditional waffles with Southern fried chicken or chicken smothered in gravy and onions. Sides include mac and cheese, grits, eggs and more.






Maxine's Chicken and Waffles, Indianapolis


MaxinesChicken.com

Owner: Founded by the children and grandchildren of Maxine Bunnell, a cook at a nearby hospital who served up a "taste of love in every bite." Turning any dish into a culinary treat, her comfort food was a hit at her hospital as well as with her family.

The Vibe: As their website puts it, "Maxine's is a place that will make you feel like you are at grandma's house. Come feel the love."

The Recipe: Deep-fried chicken paired with a signature vanilla, cinnamon, blueberry or strawberry waffle topped with peach butter









The Breakfast Klub, Houston


TheBreakfastKlub.com

Owner: Marcus Davis, Houstonian, restaurateur, entrepreneur, radio host and motivational speaker

The Vibe: Be prepared to wait in line for this busy, casual and colorful diner-style breakfast and lunch hot spot. Check out the art-covered walls while enjoying your Wings and Waffle, along with an artisan coffee concoction.

The Recipe: Six crispy chicken wings surround a buttery and fluffy traditional-style waffle.