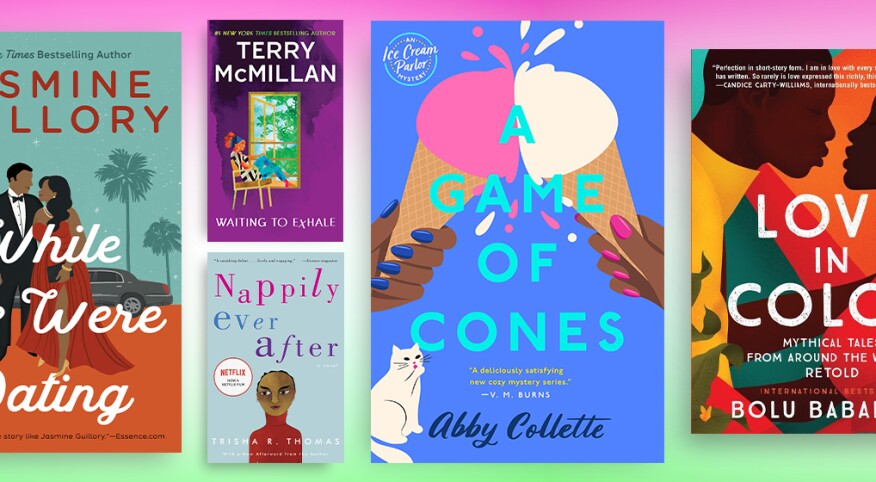 In a world where Black trauma is too often on display, getting lost in the pages of a feel-good book can be a beautiful act of self-care. Look at a breezy read as a harmless escape, which we all need from time to time. Check out some heartwarming and hilarious takes on life with this lineup featuring new novels and a couple of oldies but goodies. You'll be wearing a big smile long after turning that last page.

A Game of Cones by Abby Collette

Book number two in Abby Collette's Ice Cream Parlor Mystery series, A Game of Cones brings back the endearing Bronwyn "Win" Crewse. Following A Deadly Inside Scoop, this cozy mystery has Crewse working in the family ice cream shop, making for a mouthwatering setting. Things quickly go awry when a friend becomes a murder suspect. This delightful novel is full of humor and heart, as well as memorable family and friends. Bonus points for the delicious recipes included for the homemade ice cream mentioned in the story! Prolific author Collette also writes the Logan Dickerson Mystery series under the name Abby L. Vandiver, beginning with Bed & Breakfast Bedlam, about a couple of amateur sleuths.

Love in Color: Mythical Tales From Around the World, Retold by Bolu Babalola

Author Bolu Babalola explains why she writes about love. In an interview with The Guardian, the British writer said, "People think of love as a fluffy emotion, but it's not — it's steely and powerful." In Love in Color, she flips the tables on ancient tales, which often feature misogynistic takes where women have little control. In her retellings, she puts the female characters on level ground with their partners, empowering women in healthy and supportive relationships. A Nigerian goddess and Ghanaian spokeswoman are among the characters who find love in stories we don't see enough of in Western society, making this an affirming must-read.

While We Were Dating by Jasmine Guillory

Author of The Proposal and The Wedding Party, among other titles, Jasmine Guillory is at it again. But she doesn't write frothy romances with little more substance than cotton candy. She tackles issues like race and white privilege, wrapped in an entertaining, heartwarming package.

In While We Were Dating, movie star Anna and ad executive Ben are thrown together for an ad campaign. They both can't resist a little harmless flirting — except it's not all harmless. When a crisis arises, it forces the two of them to honestly confront themselves, as well as each other. Witty dialogue and irresistible characters will keep readers turning pages. If you love this one, also try 2019's Royal Holiday, with its 50-something main character inspired by Meghan Markle's mom, Doria Ragland.

Waiting to Exhale by Terry McMillan

This novel about four friends not only put Terry McMillan on the literary map back in 1992, it also inspired a motion picture that everyone and her girlfriend went to see, as well as the sequel Getting to Happy in 2010. Waiting to Exhale presents a searingly realistic portrait of sisterfriends navigating all of life's highs and lows, from cheating husbands, good and bad relationships, childrearing, sexuality and family. If it's been awhile since you've picked this one up, it's time to revisit Savannah, Robin, Bernadine and Gloria. And how about going back to How Stella Got Her Groove Back for a classic boy meets girl — um, grown woman — story.

Nappily Ever After by Trisha R. Thomas

Another oldie but goodie, Nappily Ever After hit the literary scene around the same time that the latest natural hair movement took off, circa 2000. What happens when a woman who's been using her long, envy-inducing relaxed hair as a shield suddenly chops it all off? Not exactly what you'd expect. Venus is a high-powered executive who gets rid of her straight hair and proposal-shy boyfriend in one go. Despite looking new on the outside, she has a way to go to discover the new Venus on the inside in this warmly funny read. If you've only seen the 2018 Netflix movie starring Sanaa Lathan, this book is definitely worth the read. Venus' story doesn't end with this book, though. Readers can follow her journey through several more books in the series, including Postcards from Venus published in 2016.