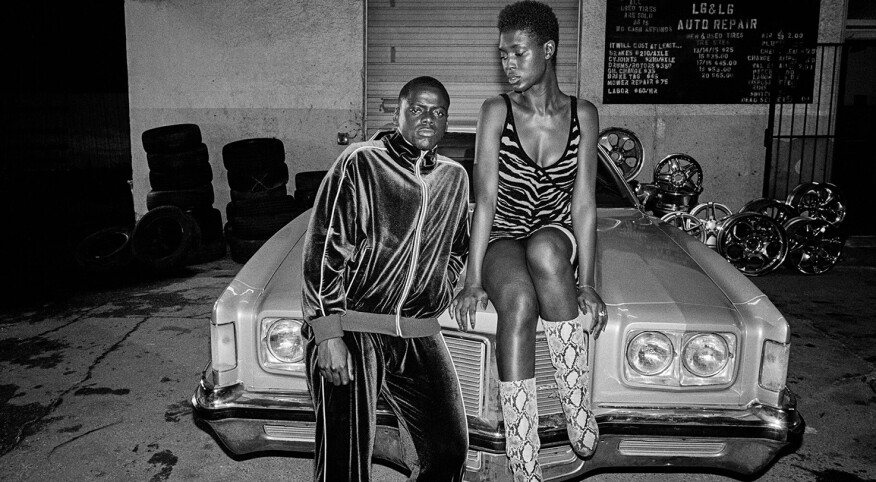 When the temperatures cool, blockbuster movie season heats up. Many of the projected studio and buzzworthy independent films coming to a cineplex or art house theater near you will feature some of our favorite stars like Tiffany Haddish, Lupita Nyong'o, Cynthia Erivo, Janelle Monae and Will Smith. So mark your calendars and get your pumpkin spice latte money ready.


The Kitchen (Aug. 9)
Tiffany Haddish proves she's more than a funny girl in this '70s gangster drama set in New York City. It costars Common, Elisabeth Moss and Melissa McCarthy. Directed by Straight Outta Compton screenwriter Andrea Berloff and adapted from a popular comic book series, The Kitchen tells the tale of three wives who take over their husbands' mob territories and become Hell's Kitchen's most powerful crime bosses.


Miles Davis: Birth of the Cool (September)
Directed by acclaimed documentarian Stanley Nelson, Miles Davis: Birth of the Cool pulls back the curtain and, with newly released archival material and interviews with historians and friends like Quincy Jones, offers fresh insight and a clearer portrait of the complicated, legendary musician. The biopic, which delves into Davis' past loves, personal relationships and addictions, will hit theaters in September. (PBS will air the film as part of its American Masters series in early 2020.)


Gemini Man (Oct. 11)
Will Smith is aging like a fine wine and so is his career. Thanks to special effects that will make you do a double take, the fit 50-year-old actor battles his buff 23-year-old self in Ang Lee's sci-fi/action blockbuster, Gemini Man. At CinemaCon earlier this year, Lee joked, "If you're a director and you get to work with Will Smith, you should consider yourself lucky — and thanks to new technology, I get two."

Harriet (Nov. 1)
In Harriet, Tony, Grammy and Emmy award-winning actress Cynthia Erivo (The Color Purple) tackles a career-defining role as Harriet Tubman. Directed and co-written by Kasi Lemmons (Eve's Bayou) and costarring Janelle Monáe and Hamilton's Leslie Odom Jr., the biopic tracks Tubman's escape from slavery and her subsequent missions to free dozens of slaves from the pre-Civil War South through the Underground Railroad. The British actress, who made her big screen debut in 2018 alongside Viola Davis in Widows, has met with criticism as well as praise for portraying the American shero. Erivo told Vanity Fair, "I hope it brings some hope to people; I hope I do people proud. And I'm just glad I get to be a part of telling this woman's story, because it's been too long. It's about time now."

Queen & Slim (Nov. 27)
Riding high on the success of her Showtime series, The Chi, Lena Waithe makes her feature film screenwriting debut with Queen & Slim, a Black Lives Matter meets Bonnie and Clyde drama starring Get Out's Daniel Kaluuya and stunning film newcomer Jodie Turner-Smith. Led by Grammy-winning music video director Melina Matsoukas, known for her work with Beyoncé ("Formation") and Rihanna ("We Found Love"), Queen & Slim is poised to become a classic in the tradition of Love Jones and Set It Off.


Jumanji: The Next Level (Dec. 13)
Dynamic duo Kevin Hart and Dwayne "The Rock" Johnson are reunited for this third installment of the box office gold Jumanji action-comedy franchise. This time, comedic actress Awkwafina joins the fun. The film series follows a group of teens transported into the world of Jumanji, where they turn into their adult avatars. The setting has been updated to a video game instead of the board game from the book and 1995 original film starring Robin Williams.


Star Wars: The Rise of Skywalker (Dec. 20)
There are so many Star Wars prequels and sequels that it's hard to keep track. But Star Wars: The Rise of Skywalker is one we're really looking forward to — mainly because John Boyega (or "baby Denzel," as we like to call him) is adorable as Stormtrooper turned hero Finn, and forever debonair Billy Dee Williams is back behind the wheel of the Millennium Falcon as Lando Calrissian. For this latest in the sci-fi saga, Lupita Nyong'o also reprises her role as the petite but powerful ancient smuggler queen, Maz Kanata.