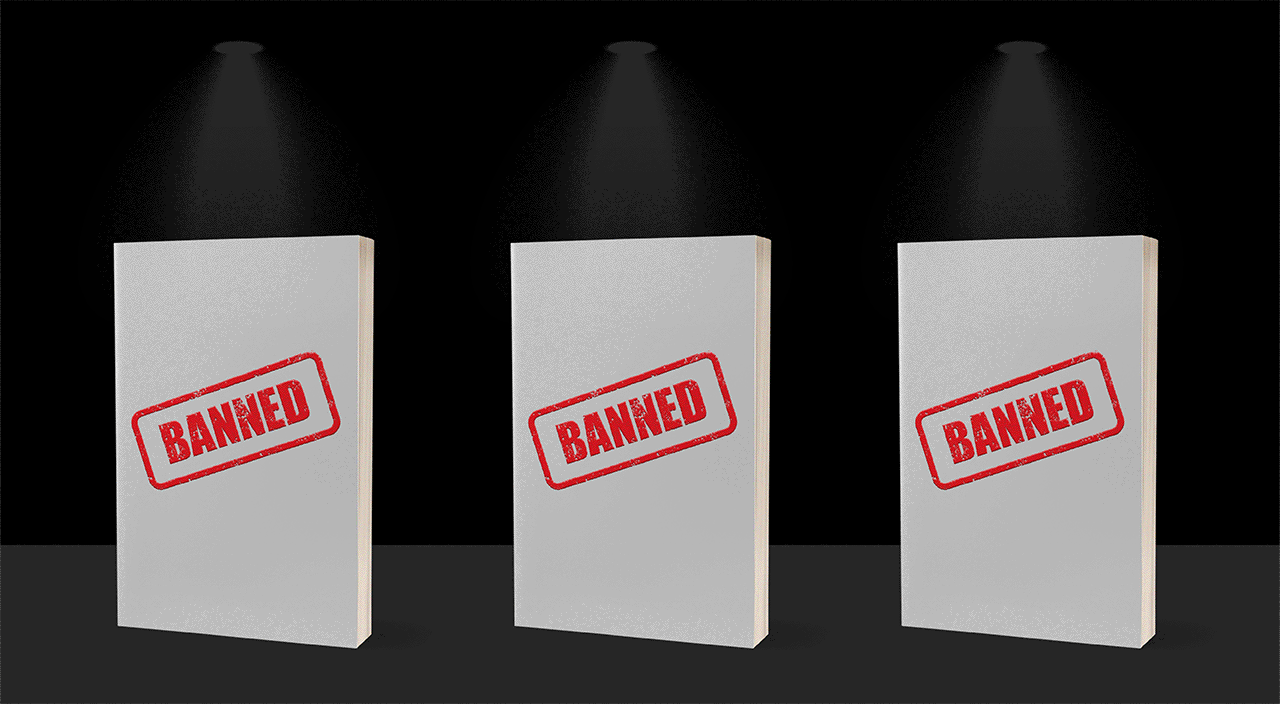 "Libraries are a cornerstone of democracy — where information is free and equally available to everyone. People tend to take that for granted, and they don't realize what is at stake when that is put at risk." ― Carla Hayden (14th Librarian of Congress) in Ms. Magazine

The nation's top librarian, a Black woman, is talking about banned books.

While you may have been hearing a lot more about banned books in the news lately, the practice of book banning in what is now the U.S. is thought to have first occurred in 1637 when the Puritan government banned a book by Thomas Morton that was deemed critical of the Puritan way of life. Whether religious organizations, special interest groups or parents, people have long since opposed books that they think harm children or that go against what they think is right. These people essentially seek to block knowledge that they do not agree with from the masses. For instance, some books that have LGBTQ+ characters and memoirs that detail the author's real-life experiences have been banned for being sexually explicit. Books have also been banned for depictions of drug use and the inclusion of profanity.

Currently, many books that feature topics on diversity and history are being targeted for banning. The effort to take away access to books occurs in every state, however, last year the state of Texas was recorded as having the most attempts to limit access to books. So what exactly is a banned book? Banned books are books that have been removed from a school, a library or store shelves to prohibit their circulation. This designation has included fiction and nonfiction works, inauguration poems and children's books. In observance of Banned Books Week (October 1-7, 2023), take a look at some of the books below that have been banned. Check them out. Literally.
Libraries are a cornerstone of democracy — where information is free and equally available to everyone. People tend to take that for granted, and they don't realize what is at stake when that is put at risk.
Carla Hayden, 14th Librarian of Congress
I Know Why the Caged Bird Sings by Maya Angelou

This autobiographical book, published in 1969, depicts the author's traumatic childhood that includes sexual abuse. Maya Angelou went on to write seven autobiographical works in total along with scores of essays and poems. During the first inauguration of Bill Clinton in 1993, Angelou recited her inaugural poem, "On the Pulse of Morning," making her the first person to do so since 1961.

"The Hill We Climb: An Inaugural Poem for the Country" by Amanda Gorman

This book, published in 2021, contains the inaugural poem recited by Amanda Gorman, the youngest poet to do so in United States history, during the Biden-Harris inauguration in 2021. The first person to be named National Youth Poet Laureate, Gorman also became the first poet to recite a poem ("Chorus of the Captains") at the Super Bowl.

Brown Girl Dreaming by Jacqueline Woodson

This memoir, published in 2014, comprises moving poems that detail the author's experience growing up in both South Carolina and New York in the 1960s and '70s. Jacqueline Woodson won a National Book Award and was a Newbery Honor winner for this heartwarming, poetic work. Woodson was named the National Ambassador for Young People's Literature by the Library of Congress and was a MacArthur Fellow in 2020.

Their Eyes Were Watching God by Zora Neale Hurston

This beloved literary fiction, published in 1937, is a Southern love story. The novel was adapted into a TV movie in 2005 starring such actors as Halle Berry, Michael Ealy, Lorraine Toussaint and Ruby Dee. Hurston was a well-known author at the height of the Harlem Renaissance and an anthropologist. Her book Barracoon: The Story of the Last "Black Cargo" was posthumously published in 2018.

Go Tell It on the Mountain by James Baldwin

This semi-autobiographical novel, published in 1953, is about a teenage boy in Harlem grappling with his experiences in the church and in his family. Baldwin, a prolific, iconic author, was a notable figure during the Civil Rights Movement. The critically acclaimed documentary I Am Not Your Negro was based on Remember This House, Baldwin's unfinished manuscript.

Sulwe by Lupita Nyong'o and Vashti Harrison

This beautifully illustrated picture book, published in 2019, tells the story of a young girl on a journey to embrace her own beauty. Authored by actress Lupita Nyong'o, Academy Award winner for best performance by an actress in a supporting role in the film 12 Years a Slave, and illustrated by the uber-talented Vashti Harrison, Sulwe is an award-winning book that was featured during an episode of Bookmarks: Celebrating Black Voices! on Netflix.

Advocacy

Despite the banning of books, people, notably students, have rallied together to oppose book banning. This was the case in Pennsylvania's Central York School District. Students protested and were successful in overturning their school board's decision to ban books at their school. Sulwe was one of those banned books and Lupita Nyong'o took to X (formerly known as Twitter) to thank those students.

Books that you cherish and adore may be offensive to others and vice versa. But as they say, "Everything is not for everybody."

In addition to librarians, others such as political leaders and civil liberties organizations continue to challenge book banning. If you would like to learn more about how you can support Banned Book Week initiatives and the freedom to read, visit the American Library Association website for more information.