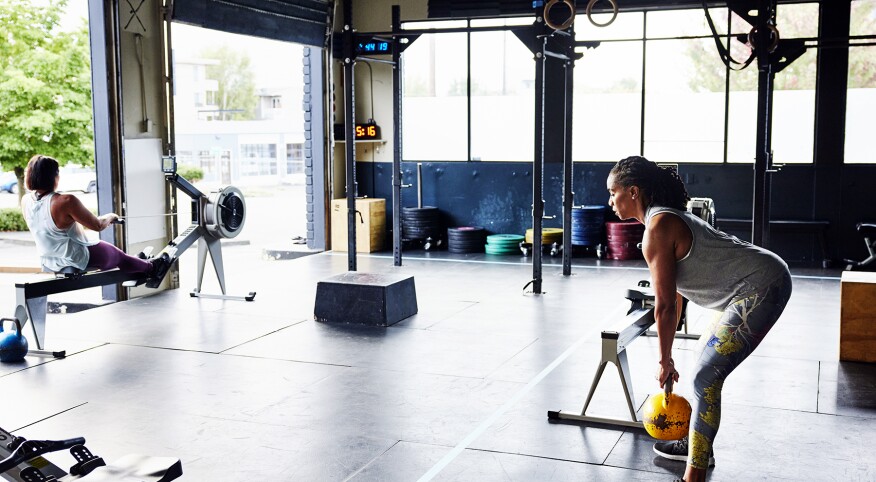 I love fitness but I am totally bored with my current routine. A fresh start with a new fitness studio may be in order. If you're feeling the same way, why not check out one of these Black-owned studios in cities across the country? Many promise to add some spice to your workout with soulful music and moves that get you groovin'. Smaller venues with fewer members often provide more one-on-one attention, better social-distancing and trainers familiar with the needs within our community. Many have virtual options.

Here's a list of Black-owned gyms and specialized studios for every fitness level. Be sure to contact these establishments before heading out, as the pandemic continues to impact operations of fitness studios and other businesses nationwide. Likewise, consider all the recommended precautions to avoid contacting or transmitting an illness.

Georgia

Gymnetics Fitness, Atlanta
GymneticsFitness.com
A contemporary studio with weights and cardio equipment, as well as personal training and popular group fitness classes
Founders: Mother-daughter fitness trainer duo Ellen Ector, 69, and Lana Ector, 31
Known for: Kettlebell workouts and their famous booty-boot-camp, butt-sculpting class.
Clientele: Gymnetics is an all-women's group fitness center serving all fitness levels. (All genders are welcome to participate in the personal-training program.)
Virtual fitness? Videos available on website.


New York

HealHaus, Brooklyn
HealHaus.com
An earthy, Zen-inspiring wellness studio and café, with indoor and outdoor private and group yoga, meditation and healing practices
Founders: Healing and wellness professional Elisa Shankle teamed with Darian Hall, a former corporate executive in the medical field.
Known for: Yoga, healing therapies and custom herbal tea blends
Clientele: All genders, all fitness levels
Virtual classes? Yes

Tone House, Manhattan
ToneHouse.com
Looking for a challenge? Train like an elite athlete with interval-training sessions, dubbed the "Toughest Workout in NYC," at this high-end group fitness studio. Two locations.
Owner: Alonzo Wilson, a former college defensive lineman and trainer for NBA players and models
Known for: One-hour super-intense strength and conditioning classes
Clientele: All genders, all fitness levels. However, newbies are encouraged to take the intro and rookie classes.
Virtual fitness? Yes, classes


New Jersey

Mind Body Spirit Personal Training, Bloomfield
MindBodySpiritpt.com
An unpretentious one-on-one and small-group fitness studio with individualized programs incorporating yoga, Pilates, boot camp, weight training, wellness, nutrition and whole-body health
Owner: Leslie Ingram-Lewis, fit and fabulous at 72 years old this year, says she feels "forever 29." With a mind/body approach to fitness, Ingram-Lewis is celebrating 45 years in the business.
Known for: Personalized programs for people who have never exercised; for fit individuals looking for the next level; and for anyone in between
Clientele: All genders
Virtual fitness? Yes, Zoom personal training sessions


Pennsylvania

Fit Academy, Brewerytown, Philadelphia
FitPhl.com
A state-of-the-art 4,000-square-foot studio with group fitness and personal training, plus outdoor group fitness classes
Owner: Osayi Osunde, a former Green Bay Packer who has been named a "Best of Philly" fitness trainer by Philadelphia Magazine
Known for: Popular outdoor boot camps on the famous "Rocky steps" of the Philadelphia Museum of Art and Silent Boot Camps with headphones and a live DJ
Clientele: All genders, all levels
Virtual fitness? Yes


Washington, D.C.

Boombox Boxing Club, Navy Yard
Boombox-Boxing.com
Chic boutique boxing club with intense, music-fueled workouts
Owners: Angela Jennings and Reggie Smith, friends who originally met on Tinder and bonded through their mutual love of boxing and martial arts
Known for: Their 50-minute music-driven Boom box class, which combines shadowboxing, Aqua bag work and resistance training
Clientele: All genders, all fitness levels
Virtual fitness? No

Sweat DC, Park View
Sweatdc.com
A modern and well-appointed personal training and group fitness studio offering strength and conditioning classes that combine weightlifting, high-intensity interval training (HIIT) and core strengthening
Owner: Gerard Burley, a sports medicine professional, started Sweat DC as a pop-up called Sweat Fitness Party.
Known for: Strength training and total-body conditioning
Clientele: All genders, all fitness levels
Virtual fitness? Yes, personal training


California

Aeriform Arts, Hollywood
AeriformArts.com
A studio specializing in aerial arts like aerial yoga, pole, trapeze, bungee, dance, harness, stretching and more, featuring an aerial room with an 18-foot ceiling and a pole room
Owner: Lea Walker, who sought to get fit after her high-stress career in television took a toll on her health, found pole dancing and aerial yoga to be an empowering and fun outlet.
Known for: Freeing and high-flying silks and hammock classes, as well as sexy self-confidence-building pole dancing
Clientele: All genders, all fitness levels; adult and kids' classes
Virtual fitness? Yes, on-demand videos

Thrive Health Lab, View Park/Windsor Hills
ThriveHealthLab.com
A 4,000-square-foot gym and wellness studio with personal training, free weights and cardio equipment. Group classes include yoga, meditation, boot camp, dance, kickboxing, sculpt, stretch and more. Onsite trainers.
Owner: La Nieciá Vicknair, who grew up in a family that struggled with obesity and worked hard to become health-conscious, saw a need for a gym in her own community and decided to open one.
Known for: TRX suspension training, which develops strength, balance and flexibility; it also specializes in corrective exercise
Clientele: All genders, all fitness levels
Virtual fitness? Yes, live streaming and on demand


Texas

The Women's Health and Fitness Center, Stafford
whfCenter.com
A luxuriously appointed, yet moderately-priced, fitness center exclusively for women. Focuses on both physical and spiritual empowerment and offers exercise equipment, personal training and fun fitness classes
Owner: Felicia Lee-Sexton, a former cocaine addict now 29 years sober, found a new high in championship bodybuilding, fitness modeling and health and nutrition counseling. She has been recognized as one of Houston's top fitness pros.
Known for: The Pink Room Warriors boot camp
Clientele: Women only, all fitness levels
Virtual fitness? Yes, a Zoom strength and cardio class

JourneyFit, Dallas
JourneyFit.net
JourneyFit is focused on complete body wellness with individually structured personal training, high intensity group fitness (HIIT, step, yoga and more), nutritional guidance, high tech body scans and more.
Owner: Victoria Thomas, formerly a star college volleyball player, is one of Dallas' top trainers. She trains NBA and NFL players, while also coaching at her professional volleyball camp.
Known for: HIIT full-body strength/cardio classes and one-on-one personal training
Clientele: All genders, all fitness levels
Virtual fitness? No


Illinois

360 Mind Body Soul, Chicago
360mbs.com
A group fitness studio that focuses on changing the way people think about fitness with mental fitness workshops and meal planning, as well as barre, cycle and functional training.
Owner: Ashanti Johnson, who battled emotional weight gain as a young adult, didn't shed the pounds until she realized the mind/body connection.
Known for: Fitness boot camps and weight-loss challenges
Clientele: All genders, all fitness levels
Virtual fitness? Yes


Michigan

Vibe Ride, Detroit
TheVibeRide.com
A high-tech group fitness studio with dance-inspired indoor cycling, as well as yoga, HIIT, barre and classes like "Arms, Abs & Ass-ets," "Fall Into the Trap" and "HIIT, Hills and Hip-Hop."
Owner: Fitness buff and native Detroiter Latricia Wilder saw a lack of boutique fitness studios in her hometown and sought to fill the void by opening a Vibe Ride franchise.
Known for: High-energy spin classes set to hip-hop music with state-of-the-art lighting, sound and DJs
Clientele: All genders, all fitness levels
Virtual fitness? Yes


North Carolina

NC Dance District, Charlotte
NCDanceDistrict.com
A hip-hop dance studio for professional and beginning dancers offering group and private instruction for adults, teens and kids
Owner: Ana Ogbueze, a former dancer for the NBA's Charlotte Bobcats, is known for her over-the-top, high-energy choreography.
Known for: Hip-hop dance classes that have you moving like the dancers in music videos
Clientele: All genders, all ages, all skill levels
Virtual fitness: No


Massachusetts

Trillfit, Boston
Trill.fit
Group fitness studio featuring popular hip-hop dance classes, as well as sculpt, cardio, boxing, Ass & Abs, Thighs & Tri's and Trillfit Family for parents and kids
Owner: Heather White, a former senior marketing manager for Puma, told Women's Health magazine that she "couldn't find a gym or fitness studio where I felt like I belonged. So, I created one."
Clientele: All genders, all fitness levels
Virtual fitness? Yes, videos on demand


Louisiana

Magnolia Yoga Studio, New Orleans
MagnoliaYogaStudio.com
The first Black-owned yoga studio in New Orleans provides group and private classes, as well as occasional events around the city to promote community healing.
Owner: Adrianne "Ajax" Jackson started teaching yoga after losing her stressful job in education. She turned her love of yoga into her new career.
Known for: Hot yoga classes
Clientele: All genders, all skill levels
Virtual fitness? No

Bonus: A Few Virtual Classes You May Enjoy
Brukwine.com: Caribbean-inspired sexy, waist-winding, booty-shaking workouts
LadimaxLifestyle.com: Virtual training and coaching for women
GrillzandGranola.com: Fitness classes for trap and R&B music lovers
Aarmy.com: Virtual boot camp and cycle classes
GetJtwfit.com: Online boot camp and in-person outdoor classes
SociaTap.com/renee032: Yoga classes with Sherrell Moore-Tucker
UrbanYogaOnline.com: Yoga classes with Ghylian Bell