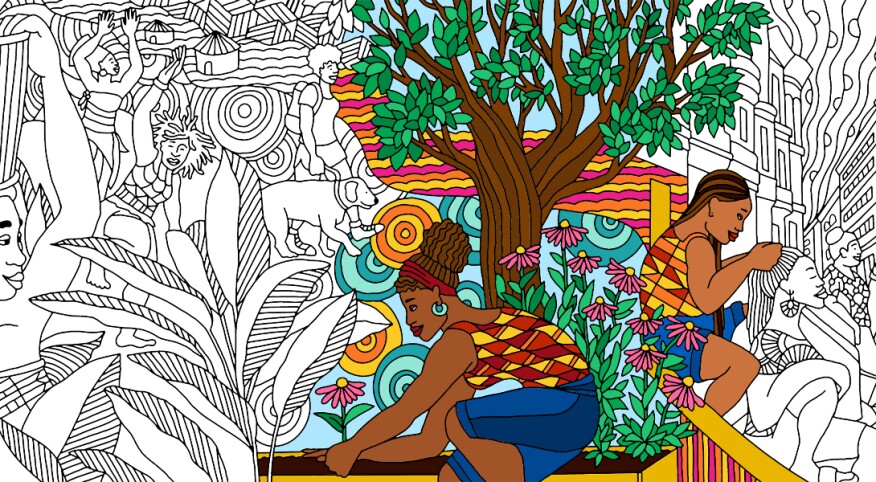 We've all seen adult coloring books displayed at bookstores and supermarket checkouts. But if you've never enjoyed this pleasurable activity that can help us connect with mellow vibes, positive emotions and sweet childhood memories, now's a great time to try it out. During moments of creative escape, we shift focus away from life's troubles.

Robin D. Stone, a New York City psychotherapist, is developing an expressive arts wellness center in Harlem. "The arts give us a unique lens through which to see our culture and ourselves reflected back to us," she told Sisters. "For Black women in this country and in this particular time of race-baited social and political discourse, that reflection can be a critical part of what makes a space safe for cultivating resilience."

That's why Sisters is bringing you these free coloring pages with a cultural twist. Download and print them for a mindfulness break you can take whenever needed. Enjoy coloring solo or invite your girlfriends to join in.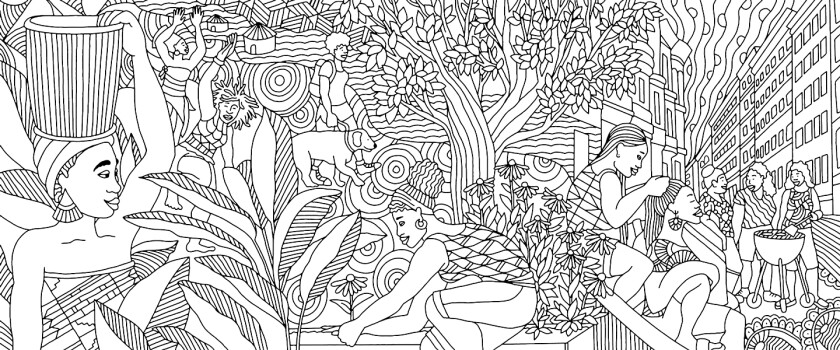 AARP SistersLetter.com Art Director Dian Holton, who leads the creative vision for our newsletter and website, tapped illustrator and graphic designer Simone Martin-Newberry to draw the sisterly scenes on this triptych.

CLICK HERE TO DOWNLOAD THE FREE COLORING PAGES

Coloring pages with a cultural twist

"This piece is all about self-care, community, warmth, good energy and Black female joy," says Simone Martin-Newberry, whom Holton asked to create three panels that could be displayed separately, or together like a panorama. The idea was to "use the space to show Black women taking care of themselves and each other, and tie in patterns inspired by Ankara prints and kente cloth. It was really fun weaving together the different scenes and incorporating many of my favorite things: dancing, plants, grilling, stoop-sitting, friends and even a dog," says the artist.
"This piece is all about self-care, community, warmth, good energy and Black female joy."
— Simone Martin-Newberry
Whether it's writing, drawing or curating a playlist of favorite songs, cultivating a creative practice you can enjoy alone or with others can be restorative, says Stone. "Drawing and coloring can help lower anxiety and stress levels and stimulate creativity." In a therapeutic setting, with the guidance of a trained professional, she adds, you can develop self-awareness and process experiences that you haven't even put words to yet.

Coloring may also allow you to engage different areas of your brain, although more study is needed. But arts and crafts activities have been linked with cognitive benefits, Rosebud Roberts, a professor of epidemiology and neurology at the Mayo Clinic in Rochester, Minnesota, told AARP in an article for Staying Sharp, an online brain health program, included with AARP membership.

"When you are coloring in those books, you are focused. You are able to train your attention" in a way that could be beneficial, she told writer Kim Painter. "It's the same as when people are engaging in a craft activity."

One 2015 study in the journal Neurology found activities such as painting, sculpting, drawing, quilting, sewing and woodworking were linked with a reduced risk of developing the kind of cognitive and memory problems that can show up before dementia does. The risk was most reduced in study participants who got creative in both midlife and old age, Roberts says.

Stone says that you can make coloring a mindful activity by focusing on how the colors you choose contrast or complement one another, by feeling and hearing and watching the pencil or marker as it scratches and fills up the page. "Be open and curious about what you color and create, and jot down reflections on any thoughts and feelings that come up."

The artist shares a few pointers as well. "Colored pencils would be great to use, or if you like a bolder color palette, brush pens or brush tip markers are an excellent choice. My most important coloring tip would be to go slowly. Put on some soothing music to listen to while you color. This isn't a rush to the finish line — take your time, think through your color choices, relax your breathing and enjoy the process!"

CLICK HERE TO DOWNLOAD THE FREE COLORING PAGES

Want more? Print out a page from AARP's Inkspirations Create While You Wait coloring book, available where books are sold and at aarp.org/ColoringBooks.