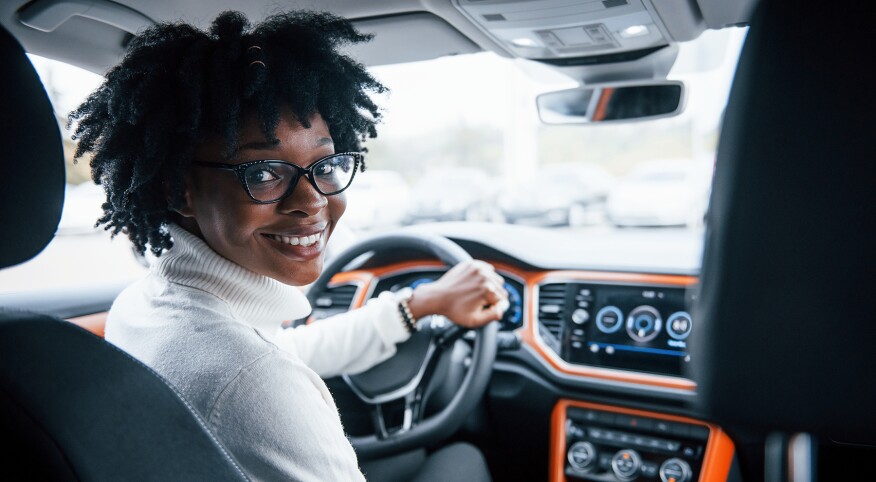 Fall is calling. The leaves are turning, and the crisp, cool temps are perfect sweater weather. So we know you just can't wait to get on the road again — with Sisters From AARP's car-ready "On the Move" playlist, cued to sing-along jams by Beyoncé, Lizzo, Ari Lennox, Pebbles and other songbirds we love.

But before you start your engine for your daily work commute, a weekend getaway or a longer road trip, do an inventory to see how many of these 19 car essentials you already have, or that you might want to order or pick up on your next shopping run.

1. Proof of insurance. In most of the U.S., legally, you need this in order to drive your car. So leave it in the glove compartment or somewhere easily accessible.

2. Car registration. Along with your license, the police will also ask for your registration if you get pulled over. Keep that in your car as well.

3. Healthy and tasty snacks. Keep a few wholesome snacks stashed as a post-workout treat or for anytime you're feeling hangry. Two women-of-color-owned and organic brands to consider are Pipcorn Heirloom Snacks (the spicy cheddar cheese balls are craveworthy) and Moonshot crackers (the Margherita pizza flavor is a savory option).

4. A cozy blanket. Put a plush blanket in your car for warmth in case you ever have to wait for emergency assistance in inclement weather.

5. Sunglasses. Keep a cute pair of sunnies handy to protect your eyes from glare. Pick up a funky pair from Black-owned brands like 3rdEyeView and Perfect Haze.

6. Cellphone charger. Cruise safely with a charged phone so that you can dial 911, tell your loved ones your location and use your phone's navigation app.

7. Portable urinal. Let's face it: As we get older, sometimes we have to pee at the most inconvenient times. Would one of those portable urinals help us out of a potty predicament?

8. Auto safety kit. You can never be too prepared for an emergency, so an auto safety kit with essentials like jumper cables for a dead battery, a tow strap and a headlamp flashlight can be a lifesaver. A roadside assistance membership is also a plus.

9. An emergency app specifically for Black drivers. With the way things are, we're concerned about encounters with police. Fortunately, there are apps that offer what could be lifesaving support, including TurnSignl, Legal Equalizer and the ACLU's Mobile Justice. For iPhone users, Siri has an "I'm Getting Pulled Over" shortcut to record interactions with the police during a traffic stop, give your emergency contacts your location and put your phone in do-not-disturb mode. (To access this shortcut, download the iPhone's Shortcuts apps for free from the Apple App Store.)

10. Spare tire and tire-changing kit. Getting a flat is no fun. And you don't want roadside assistance to be your only option after dark. Keep a spare tire and tools like a jack and a lug wrench in the trunk so that you or a helpful travel companion can change your tire.

11. Seat belt cutter/window breaker. Unfortunately, Black folks are reportedly more likely to die in traffic accidents. Give yourself a fighting chance with these emergency tools. Two compact, two-in-one tools are the Car Escape Tool (resqme.com) and Ready America's Auto Emergency Hammer and Seat Belt Cutter (Home Depot).

12. List of emergency contacts. How many of your important contact numbers do you know by heart, sis? Exactly. Write them down and keep them in your glove box in case of an emergency.

13. First aid kit. Cuts and scrapes, and aches and pains, happen, so it's better to be safe than sorry. Target and Walmart have kits with over 100 items including gauze, scissors, tweezers, cold compress, adhesive strips and and antibiotic ointment [1] .

14. An umbrella. Can you stand the rain? If you keep an umbrella in your car, you will always be prepared for a quick shower or a heavy downpour.

15. Over-the-counter pain medicine. Sometimes sitting in traffic can literally be a headache. Keep a travel pack of Tylenol, Advil or Aleve on standby.

16. Reusable water bottle. Some health experts recommend sipping water throughout the day even if you're not thirsty. And this is the only time when drinking and driving is a good idea.

17. Reusable bags. To carry your groceries and impulse purchases in style, store a reusable bag with a fashion statement in your trunk, like CISE's "Protect Black Women" tote and Melanin Apparel's "Recycling Black Dollars" tote.

18. A soothing scent. Upgrade your car air refresher game. Clip a mini essential oil aromatherapy diffuser into your car's vent, or plug one into the USB power outlet. The soothing scent of lavender, citrus or whatever fragrance is your jam will help to keep you Zen yet alert. It will also keep your whip smelling fresh. Cool mist and wood diffuser varieties are available at Amazon and Walmart.

19. An extra pair of sneakers and workout wear. You never know when you may need to make a quick change and get in a run, a power walk or a last-minute fitness class.