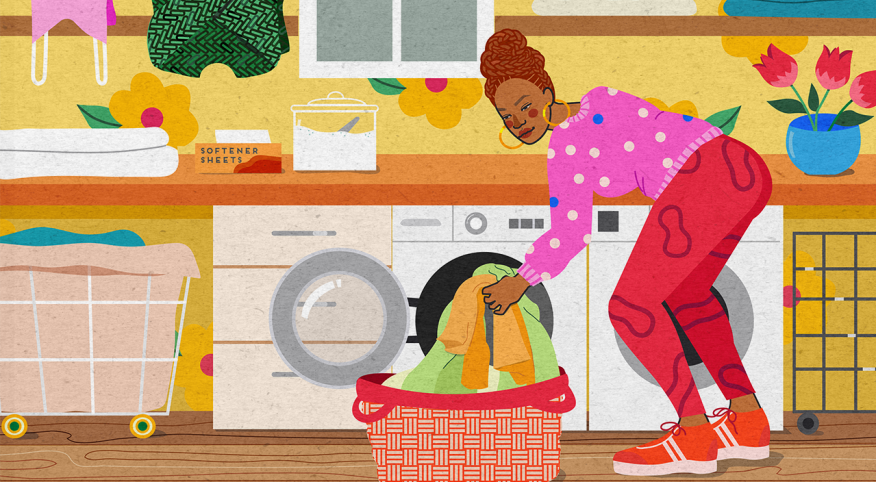 What does your laundry routine look like, Sis? Do you toss your duds in the dirty clothes every time you wear them? And on laundry day, do you wash everything in your overflowing hamper? If so, you may be cleaning some of your clothes too often and neglecting the items that don't make it into your hamper.

When you do your laundry often, you'll have fresh, clean clothing to wear, but over-washing your clothes can fade them, cause them to shrink or lose shape, and decrease their lifespan. There's also the drain on natural resources and on that oh-so-precious resource in your wallet. On the other hand, under-washing your clothes also has consequences. There are obvious ones, like odors and stains, but also the not-so-obvious, like possible skin irritations and rashes.

So how often should you wash your clothes? We break things down for you garment by garment. Keep in mind that these are guidelines, not laundry or dry cleaning commandments. Use your best judgment and adjust as necessary.


Underwear, socks and pantyhose

You already know this, Sis, but it's worth reiterating: You should wash your underwear, socks, pantyhose and tights after each wear. These items cover your most intimate parts and touch your skin directly, so they collect bacteria, sweat, dead skin and other invisible debris — nothing you would want to put back onto your body.


Bras

While bras touch your skin directly, they are the exception to the "wash after every wear" rule. These sturdy items can go two to three wears before needing a wash. Much longer than that and you expose yourself to potential rashes, skin irritations or infections from yeast or bacteria. Make sure your bra gets a chance to relax and breathe between wears. And on hot and sweaty days, you might want to wash your bra after each wear.


Camisoles, tank tops, T-shirts and blouses

Since these garments are usually worn directly against the skin, wash them after every wear. However, you may be able to get a couple of wears out of blouses and button-down shirts, especially when you wear them over a layer.


Sweaters

Depending on the material, you could get four to six wears out of your sweaters before washing, but you should clean sweaters worn directly against your skin more often. Keep in mind that over-washing your sweaters can lead to pilling, fading and shrinking, depending on the content. To extend their longevity, try hand-washing your sweaters and laying them flat to dry, and be sure to fold rather than hang them.


Dresses, dress pants and skirts

These items — usually made of more durable fabrics — can go about three wears before they need to be washed or dry-cleaned. Wash them more often if you're active in them or sweat easily. And give them a chance to air out between wears before sticking them back in the closet.


Denim

The cleaning timeline on jeans differs from pants made from other materials, because washing denim breaks the fabric down over time. So, while the advice can be as extreme as never washing your jeans (yes, never), denim manufacturers recommend washing jeans every 10 wears or so. Consider the content of the jeans, though; wash 100 percent cotton jeans more often to retain shape, but not too often, because they can shrink. Spot clean your jeans between wears, and on laundry day, hand-wash or machine wash them inside out in cold water and let them air-dry. Once they're dry, you can toss them in the dryer to soften them up.


Suits and blazers

You can get three to five wears out of your suits — but clean them more often if you tend to sweat or wear them in environments with strong odors.


Coats and jackets

Your winter coat or jacket might be getting less laundry love than it needs. Wash (or dry-clean, depending on the fabric and care instructions) these once or twice per season. Don't forget about hats, scarves and gloves; consider washing those three to five times during the season.


Loungewear and sleepwear

Your silky pj's and other loungewear can go three to four wears before they need to be cleaned, provided you wear them inside and don't sweat in them. Extend that time frame if you shower before bed. And don't forget about your robe; toss it in the wash about once a month.

Workout clothes

In some cases, you may get a couple of wears out of your exercise clothes, but there are a lot of variables here. If you wear your leggings or exercise pants sans underwear, you should wash them after every wear. Also, toss your clothes in the wash after especially sweaty workouts to avoid odors and possible skin irritations. If you re-wear your exercise clothes, make sure they dry thoroughly and air out between wears.


Bathing suits

You may not wear your bathing suit often, but when you do, treat it like underwear and wash it after every wear. The same goes for bodysuits or shapewear worn directly against your skin.


Hair bonnets and headscarves

If you don't already wash your bonnet or scarves regularly, it's time to include them in your laundry routine. Like other items that touch your body, your bonnet holds dead skin cells, bacteria, sweat, oil and odors. Toss it in the laundry weekly — or every two weeks if you don't use a ton of hair product.


Some exceptions to consider

White clothes, regardless of category, may need to be washed after every wear since they show dirt and they discolor easily. (One sister we know who favors wearing white purchases two each of certain key pieces so that there's always a spotless one ready — love this!) Also, consider cleaning silk items, which absorb smells and oils, after each wear. And as mentioned, sweat, strong odors, and visible dirt and stains mean tossing these rules out the window and washing those items as soon as possible.