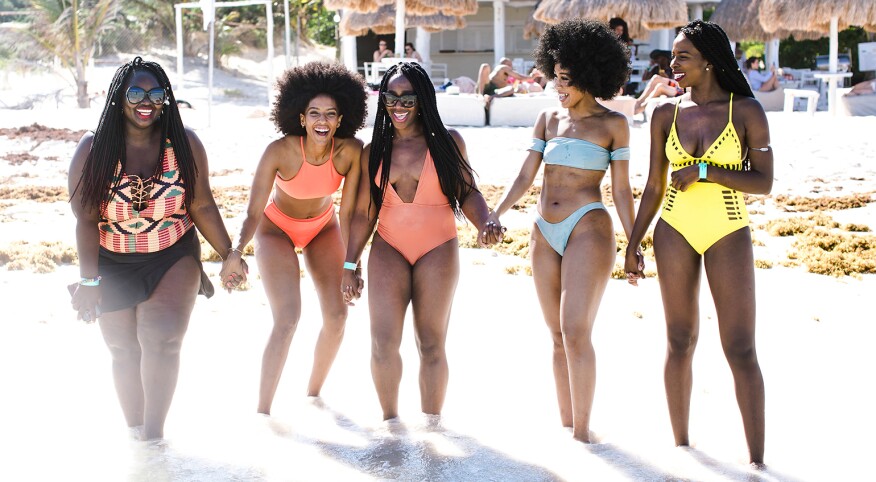 Where in the world are sisters going? Everywhere! African-Americans spend about $50 billion annually on travel and leisure, with a large chunk of that spending coming from Black women. That's why several globe-trotting sisters have launched travel groups that are getting trekkers' attention. So, the next time you're ready to book a girlfriends' getaway to Negril (or maybe a solo adventure Barcelona) consider rolling with a group that's for us, by us.

Bucket List Beasts
Sonjia Lioness Mackey has been to all 50 states, all seven continents, and 75 countries. She began hosting off-the-beaten-path trips through her Facebook community. Upcoming jaunts include Iran, the Galapagos Islands, a whitewater-rafting and glamping trip on the Salmon River in Idaho, and a signature "Mystery Trip," where travelers pack their bags, grab their passports, and head to the airport with no idea as to their destination. Although most members are Black women between age 30 and 50, the group is not exclusive. "We welcome anyone who is adventurous, bucket-listing, and living your best life!" Mackey told Sisters.

Nomadness Travel Tribe
Thanks to her TED Talk, Evita Turquoise Robinson's group is a trendsetter. "We are a tribe," Turquoise says of her a community of nearly 20,000 travelers of color ― 84 percent of whom are women and 90 percent of whom are African American. The group is global — they mainly connect through social media. "Our concept is really that there are no ethnic or economic barriers to being able to travel," according to Robinson, who has curated nearly thirty international group trips to India, the Dominican Republic, Brazil, South Africa and other countries.

Travel Noire
Founder and CEO Zim Ugochukwu created the site to show Black travelers we have access to destinations abroad without breaking the bank. The incredible photos of Havana, Amsterdam and Rio inspire vacationers to leave their comfort zones. "To see myself in a destination that I wouldn't normally expect to see myself in, that's a trigger. And that means that same $5,000 that I was going to spend in the same destination I've been going to for 10 years, is going to be spent on this new destination," Ugochukwu notes on the site. The organization offers travel deals, international group trips and downloadable travel guides.

The Runaway Experience
Kalisa Martin and boyfriend Jeff Belizaire left their corporate careers behind to pursue their passion for food, culture and travel. First they launched The Runaway Jamaica, the first and only successfully funded B&B on Kickstarter. Since then, the couple has expanded their lifestyle brand as The Runaway Experience, which offers women of color self-care, culinary and personal finance-focused retreats around the world.

While there's a waiting list for the 2019 excursions, keep an eye out for new offerings. One traveler raved, "It was amazing to be on the trip with a group of women who were on the same vibe and supported each other's journey."

Single Parents Who Travel
Tomika Anderson created the social networking group "because I wanted my son — and other people's little Black and brown children — to grow up knowing they can be and do whatever they want in this world because they've seen [the world]," Anderson told Sisters. She hosts one major trip a year with kids (a Caribbean cruise last year and Jamaica in 2019). Next year, the travel group will also host a parents-only trip to Cartagena, Colombia. In between excursions, Anderson hosts single parent meetups in New York City and Washington, D.C. "There's is no shame in being a single parent," says Anderson. "Single moms have raised and are raising nations. Our village is global."