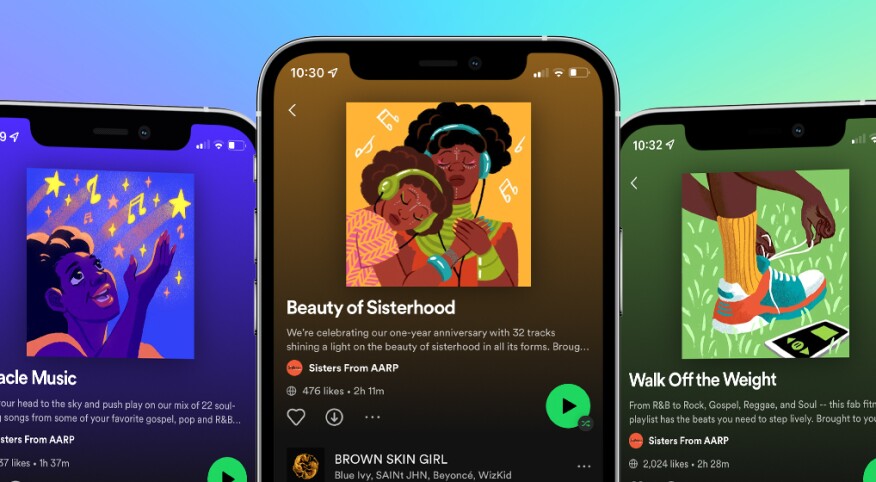 Editor's note: Hey, sisters! It's your girl, Claire. How many of y'all know that Sisters From AARP has been bringing you uplifting and enjoyable free playlists on Spotify since our very first issue in 2018? You can find them by clicking Playlists at the top of any web page on sistersletter.com (If you don't have a free Spotify account and you'd like one, scroll down to the video below, which shows you step-by-step how to set one up in less than five minutes.) Be sure to follow us on Spotify too.

For the thousands of you who already enjoy listening with us, we've got great news! I've asked our resident DJ, Tracy E. Hopkins, to remix all your favorites to include the hottest new music, while keeping all the jams we know you love.

Tracy is an arts and culture writer and documentary filmmaker who has always had eclectic taste in music, from pop and R&B to gospel and hip-hop. The commonality in most of her savvy song selections for Sisters From AARP is that she loves a funky beat, a catchy melody, a soulful groove and a soul-stirring message. Here's what one Sistersletter reader had to say about Tracy's playlists:

"Thank you. Once again Tracy Hopkins put together a list worth the listening time. Good time to let it roll while cleaning up, do my pedicure, worth sharing!"

Listening to her themed music mixes while working, walking, doing the dishes, feeling blessed, lounging in the tub or enjoying a passionate date night gives me such joy and life. I'll bet you feel the same — or will soon! Thanks for sharing these sensational soundscapes with us, Tracy! What a gift.

Sis, would you like to know which playlists you and other Sisters From AARP readers listen to again and again? We've charted the top 10 below.

Drumroll, please …


10. Black Reign: A Playlist for Queens

This playlist is all about you, Queen, and the music queens we love. So adjust your crown and bask in your regal glory as you pump up empowering jams like "Respect," by Aretha Franklin; "Work That," by Mary J. Blige; "Ladies First," by Queen Latifah and Monie Love; and "I'm Every Woman," by Chaka Khan. Plus, we added a new track, "Be Alive," by Queen Bey.

9. Power Up Your Day Workout

Stay upbeat and work up a sweat at the same time with this mix of up- and mid-tempo tracks by artists with a positive message, including Nina Simone ("Feeling Good"); Mali Music ("Beautiful"); Kendrick Lamar ("HUMBLE."); and En Vogue ("Free Your Mind"). For added value and more inspiration, stretch, flex and walk it out to Fred Hammond's "Hallelujah," Koryn Hawthorne's "Won't He Do It," and DJ Khaled's "Shining," featuring Beyoncé and Jay-Z, and end your workout with an oldie-but-goodie, Tracy Chapman's "Talkin' Bout a Revolution."

8. Beauty of Sisterhood

Think of this playlist as a warm hug from a bestie you haven't seen in a while. The songs are tried-and-true, just like your girl. Refreshed tracks include Jennifer Hudson and Cynthia Erivo's beautiful duet, "What About Love," from The Color Purple; India.Arie and Beautiful Chorus with the meditative "I Am"; Klymaxx's tender ballad, "I Miss You"; and TLC's friendship litmus test, "What About Your Friends."

7. Badass Chicks (Just a friendly reminder of how amazing you are, sis.)

Nobody's gonna check you, Boo. This playlist already celebrates your boss moves with tunes by badass chicks like Beyoncé ("Run the World [Girls]"); Ms. Lauryn Hill ("Lost Ones"); Alicia Keys ("Girl on Fire"); and Janet Jackson ("Nasty"). Now we've kicked things up a notch with a scorned woman anthem by Jazmine Sullivan ("Bust Your Windows") and indie pop-rock bangers by Res ("They-Say Vision") and Santigold ("I'm a Lady").

6. Light Passion's Fire

Sultry songs by SWV ("Weak"); Maxwell ("Fortunate"); Stephanie Mills ("Feel the Fire"); and Johnny Gill ("My, My, My") already had us all hot and bothered. But c'mon, baby, let us relight your fire with the addition of a swaggy Con Funk Shun cover by Silk Sonic ("Love's Train") and a yearning classic duet by Rachelle Ferrell and Will Downing ("Nothing Has Ever Felt Like This").

5. On the Move

Fuel your next road trip or commute with this groovy mix featuring Aretha Franklin ("Freeway of Love"); Tracy Chapman ("Fast Car"); Prince ("Little Red Corvette"); and other travel-ready hits. Plus newly added jams "Break My Soul," by Beyoncé; and "Butter," by BTS featuring Megan Thee Stallion.

4. Giving Thanks

New songs by contemporary gospel artists Maranda Curtis ("Victory Chant") and Benita Jones ("Still Everything") join jubilant tunes of thanksgiving from Kirk Franklin ("Love Theory"); Ray Charles and James Taylor ("Sweet Potato Pie"); Sounds of Blackness ("I Believe"); Earth, Wind & Fire ("Gratitude"); and more.

3. Keep the Faith

As we continue to fight for social justice and women's rights, this playlist offers both a healing balm and a battle cry. Joining this uplifting playlist mix featuring Mariah Carey ("Make It Happen"); Whitney Houston ("You Light Up My Life"); and Billy Porter and the cast of Pose ("Love's in Need of Love Today") are songs of faith and devotion by Lexi ("There Is More"); Emeli Sandé ("Brighter Days"); and Tasha Cobbs Leonard ("Break Every Chain").

2. Miracle Music

Celebrate the season of rebirth and renewal year-round with this playlist packed with miraculous music by CeCe Winans ("Believe for It - Live"); The Clark Sisters ("Miracle - Remix"); Shirley Caesar ("You're Next in Line for a Miracle"); and more gospel superstars. Now the blessings are supersized with tracks by Kierra Sheard and Tasha Cobbs Leonard ("Something Has to Break") and Tamela Mann ("He Did It for Me - Live").

1. Walk Off the Weight

Sis, we love that this numero uno playlist — packed with hits by Jill Scott ("A Long Walk"); Soul II Soul ("Keep On Movin'"); Luther Vandross ("Shine"); CeCe Peniston ("Keep On Walkin'"); and more of our favorite artists — kept you moving and motivated during the pandemic. Now keep "Pressing On" with this added inspirational track from Vanessa Bell Armstrong.

Don't miss out! To set up a free Spotify account so you can stream our latest lists by simply clicking on the image in the newsletter, follow these easy steps: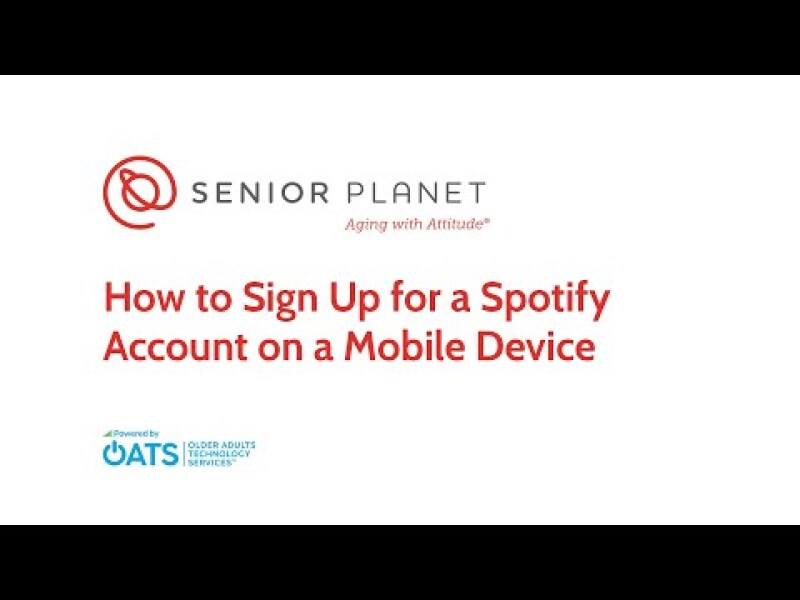 How to Sign Up for a Spotify Account on a Mobile Device

Happy listening, sis. And don't forget to follow us on Spotify so you'll stay up to date with the latest lists.