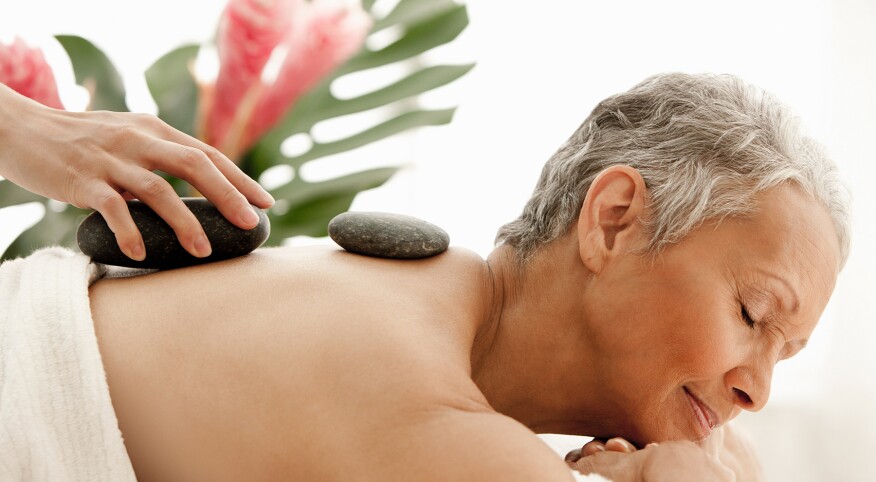 From health and wealth to travel and good sex — you deserve the best this world has to offer. So, whether you're looking to round out your bucket list or simply trying to live your best life, make plans to add these experiences to your agenda.


The thrill of learning a new skill. Safiya Robinson, 44, of, Christ Church, Barbados, recently picked up sewing and Pilates. She's also learning to play the steel pan. "It's been a great way to relax, to build confidence and have fun," she says. "And now that I know myself better and don't take myself so seriously, I've tried things I have avoided in the past."
The freedom and flow of creativity. Unlock your creativity and make something that's never existed before. Pick up a paintbrush. Write poetry. Or enjoy organic movement in a somatic dance class.
The pride of accomplishment. Why wait to congratulate yourself for writing that book, running that half-marathon or starting that business? Celebrate every completed chapter, mile or page of your business plan.
Triumph over fear. After turning 40, Bisa Myles, who lives near Chicago, was determined to conquer her fear of water. "I took group and private swim lessons for over a year," she says. "In 2019, at 45, I went snorkeling in Zanzibar, Tanzania."
A natural high. Diane Hawkins, 54, of Louisville, Kentucky, recently discovered zip-lining. "After I closed my eyes and stepped off the ledge, I was thrilled that I actually went through with it — while screaming at the top of my lungs!" she says. "I've been inspired to take on a new challenge every day." Our spirits soar when we take in a sweeping view from above, be it from a skyscraper observation deck, a roadside scenic lookout, a Ferris wheel, hot air balloon, airplane or amazing drone footage of a natural wonder such as a waterfall .
The bliss of sexual pleasure. Yes, you can have amazing orgasms even after 40. This could be from mind-blowing sex with your partner or you can fly solo. Whether you use your fingers or your favorite sex toy, self-pleasing can help prevent vaginal atrophy and help you learn more about your body.
Confidence in your sex appeal. Maybe a boudoir photo shoot could help remind you that your sex appeal has no expiration date. Or try buying and wearing some sexy lingerie just for yourself. If it's in your budget, check out these luxe lingerie pieces for the grown and sexy.
The delight of being pampered. Carla Henry-Lewis, 55, of Montgomery, Alabama, stepped up her self-care routine with a hot stone massage. "The pressure and heat from the stone add an extra level of repose," she says. "The first time I had a hot stone massage every tissue in my body felt love." If you don't want to stop with a massage, plan an entire day of rest and relaxation at one of these Black-owned day spas.
The joy of real friendship. A well-rounded sister circle is good for the soul. So, challenge yourself to make the effort to have more fulfilling friendships.
The rewards of being a mentor. If you can't commit to a formal mentorship program, even an occasional conversation can have a great impact on the life of a young person. Be the woman you needed as a girl.
The glow you get from giving back. Volunteer, donate or help spread awareness by simply talking to others about the issues that matter most to you.
The serenity of a space that's just for you. This sacred space can be your prayer closet, meditation room, where you go to journal, or just your place for winding down after a long day.
The calm of clutter-free living. No matter where you live, make your home your sanctuary by getting rid of clutter for good.
The pride of ownership. Whether you're investing in a piece of property or a share of stock, having something to call your own is an investment in yourself.
Financial freedom. For the sake of your future, make smart money moves now. Save money, ditch your debt and protect your assets.
A passion that allows you to cash in. Getting paid for doing something you love so much you'd do it for free is priceless.
Doing absolutely nothing — and not feeling guilty. Aug. 10 is National Lazy Day, but feel free to schedule your day of radical rest anytime of the year, several times a year.
Feeling happy and healthy after a good workout. Zumba, kickboxing and hip-hop dance are just a few of the many ways you can burn calories and actually enjoy working up a sweat. Be sure to add some weight-lifting to your workout regimen, too. Along with the health benefits of strength training, these workouts will show you that you're stronger than you think you are.
Peace of mind that comes from knowing your body. A mammogram may not be on your bucket list, but it should be on your to-do list once a year or every two years. And be sure to stay up to date with all other health screenings, too.
The guilt-free enjoyment of luxury. Melissa Denae of Birmingham, Alabama, treated herself to a stay at the Palazzo at the Venetian Resort in Las Vegas. "As women, we often put everything and everyone before ourselves so being cared for is often seen as a luxury when in fact it's a necessity," she says. "So, get that super plush king suite and enjoy every second of being taken care of." Or, you can simply have a cup of coffee from the lobby of a luxury hotel. Or go try on a diamond-laced bauble at high-end jeweler. You don't have to break the bank to feel like the queen that you are.


As women, we often put everything and everyone before ourselves so being cared for is often seen as a luxury when in fact it's a necessity. So, get that super plush king suite and enjoy every second of being taken care of.

Melissa Denae

The thrill of being someplace new. Pull out your passport and plan a trip to the motherland, or perhaps one of these 5 places every Black woman should visit in her lifetime. Want to keep it simple? Be a tourist in your own town.
The joy of your own company. Taking a trip alone can be one of the best ways to get in touch with who you are and what you want. If you're not ready for solo travel, try going to the movies or to your favorite restaurant by yourself.
Finding that one thing that makes you feel foxy and fierce — instantly. For Nicole Redmond, 47, of Silver Spring, Maryland, it's all about red lipstick. "Red lipstick is the little black dress of makeup," she says. "It can dress up or down and it's timeless. It makes me feel powerful, sophisticated and classy." Maybe you'll treat yourself to a custom-made garment or a pair of shoes that makes you strut with your head higher.
A guilt-free closet. Fast fashion is bad for the environment and the people who make these garments are rarely paid a fair wage. Check out these Black-owned sustainable fashion brands to start your journey to a more ethical and eco-friendly wardrobe.
Being comfortable in your own skin. Make peace with the mirror and the scale by moving your body, feeding it healthful foods and building a wardrobe that you love.
The joy of loving your hair. Maybe you're on a journey to embrace your gray streaks or your natural curls. Or perhaps you just need a style that makes you feel fabulous. Learning to love your hair could help you learn to love everything else about yourself.
Black Girl Joy. Find your joy through ancestral healing. Free yourself from intergenerational trauma using journaling, culturally supportive therapy and family traditions.
An empathetic ear who listens while you get the lesson. Finding the right therapist can be tough, but your mental health is worth the search.
The bliss of mindfulness. Adding mindfulness meditation to your daily routine can increase your peace, improve your sleep and even help you manage your weight.
The peace of self-compassion. Let go of mistakes made by your younger self. You're older and wiser. You know better, so now you'll do better.
A soul-soothing morning routine. Whether it's prayer, yoga or sipping a cup of tea, develop a morning ritual that gets you grounded for the day ahead.
The healing power of being a plant mom. Studies show that indoor plants and indoor gardening can reduce stress levels and boost feelings of well-being in people battling conditions such as depression, anxiety and dementia.
The sweet relief of accepting help. Asking for help is a sign of wisdom, not weakness. Take off the cape, superwoman, and give yourself a break. You don't have to do it all alone.
The refreshment of a good night's rest. Being well rested can improve your health, your mood and even your skin. If you're having trouble sleeping, try wearing loose fitting bed clothes made from breathable fabrics (or pass on the pajamas altogether) to help keep cool at night.
The glow of gratitude. Take a moment to write down 20 things you're grateful for right now and watch your whole attitude change.
A full plate of adventure. Experience the world without leaving your house by exploring foods from different cultures.
The brain boost of learning a new language. Along with making you feel like a global citizen, learning a new language (a foreign language or American Sign Language) can help improve your memory and cognitive skills.
The confidence to gracefully accept compliments. The next time someone tells you how great you look, don't say your hair is frizzy or your dress is out-of-date. Simply say, "Thank you."
The clarity of sobriety. If you find yourself reaching for wine anytime you're stressed or having a bad day, you may need to take a break from the bottle. If you need help to quit drinking or cut back, talk to your health care provider or your therapist or consider joining a local recovery program. And know that you can be sober and still be social. 
The freedom of doing your own thing. If there's anything on this list that's not your jam, may you experience the freedom of knowing you're here to do you. Remind yourself daily, I am my deepest desire.